Wedding hair and makeup packages include a list of necessities that the brides need on their wedding day. It's more than just hair and makeup, though. The makeup artists assist the bride in deciding many other things. 
A wedding is that occasion in a woman's life that has to be perfect in every way. Makeup artists know that and they deliver that perfect day to the brides. Their brushes hold magical powers that make the brides look captivating.
In this article, we have mentioned how a makeup artist should create wedding hair and makeup packages.  
What Are Wedding Hair and Makeup Packages?
Wedding hair and makeup packages are the packages that brides choose before their wedding. These packages include doing the hair and makeup for the bride and other wedding guests. 
The cost of these packages depends on how many services the makeup artist is providing to the bride. There is a range of services that are included apart from just the makeup and hair. 
Here's what a makeup artist offers in wedding hair and makeup packages. 
Hair:

As a makeup artist or MUA, you are responsible for the bride's hairstyle during the wedding ceremonies. Some women can look beautiful in a bun, while others look elegant with open hair. You should discuss the hairstyle with the bride and tell her what kind of hairstyle would suit her.   
Makeup:

Makeup artists apply makeup on the bride's face and on other members. It's usually the senior makeup artist who does the bride's makeup whereas the other artists do makeup for the bride's mother, sister, other close relatives, and the bridesmaids. 
Jewellery:

If your makeup studio allows the brides to bring in real jewellery, then it's required of you to help the bride in wearing those. Brides hire makeup artists a few months before the wedding. So, the makeup artist can give their suggestions to the bride about what jewellery will look good on them. 
Wedding attire: Lastly, you are also in charge of helping the bride to wear her wedding attire. Wearing a heavy lehenga or a gown will obviously require some help. You're the person who should assist the bride in dressing up perfectly. 
Apart from these, there are pre-bridal packages too. They include services like waxing, body massage, body scrub, facial, and more. 
How to Create Wedding and Makeup Packages 
Creating wedding and makeup packages requires you to pay attention to many details. You should know the latest fashion trends. You should give your opinions and advice to the bride but also respect her wishes. 
Keep up with the trends:

As a makeup artist, you should know about the latest fashion trends. Every wedding season, there are new trends. It'll be beneficial for you if you always keep yourself updated about these changes. For instance, if a particular type of makeup look is popular and the bride comes to you asking if you can do that. If you answer her yes, there will be more chances that she'll hire you. 
Hair types:

Everyone's hair is different. No two women, even if they are mother and daughter, will have the same type of hair. You should give an easygoing hairstyle to the bride. Add some extensions and colour if you think the bride would look stunning with them. 
Skin-friendly products:

As a makeup artist, you should carry skin products that do not cause a reaction to people's skin. You should know the ingredients that are used in liners, toners, foundations, and concealers. You should also avoid ingredients that most people are allergic to. 
Get the right colours:

"Red isn't really your colour".

You might have heard people say such things to each other. Maybe it was you who said it to someone sometime. The makeup artists should pick out the right colours in their makeup kits. Just because the bride's favourite colour is yellow doesn't necessarily mean that it'll suit her. You should know what colour would look better on her, and you should be able to convince her too. 
Factors to Consider When Creating Wedding and Makeup Packages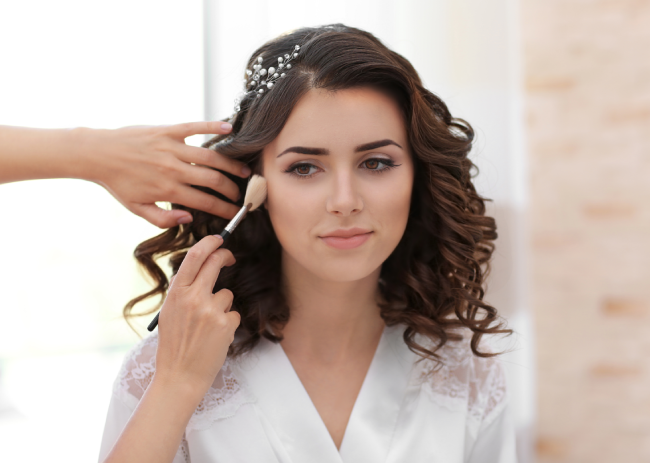 There are plenty of things that you've to think about before you decide before creating wedding hair and makeup packages. You want the bride to look unrecognizable on her wedding day, but in a good way. Even the wrong shade of eye shadow will ruin her whole look. Too heavy of a hairdo will make her uncomfortable and can cause a headache. Therefore, you should know some things before you create a package. 
The Package:

What services will you include in the package? Will it only be hair and makeup? Will you also provide the pre-bridal package to the bride? It's suggested that you at least include 3 types of services in your package. If you keep them to only a few, then the bride might consider somebody else. 
Budget:

The budget of wedding hair and makeup packages should be set in such a way that the brides shouldn't negotiate much on it. It should sound reasonable to them. Charge people according to the services you are including in the package and the number of people you will assist.  
Bride and Other Guests:

You should know what services the bride will require. You should recommend some services to her as well. Other than the bride, it'll be the bride's sister, mother, and bridesmaid who will also require your help. You should take care of their needs as well as of the bride's. 
FAQs
How Much Do You Spend On Hair And Makeup For Wedding?
Hair and makeup package charges go from $100 to $600. The prices depend on the kind of services the bride is taking in her package. In bigger cities, the MUAs charge prices around $1,000. 
The costs can go up if you're planning a destination wedding and the MUA has to travel with you. 
Many brides keep the makeup artists on-site and that also increases the charges. The makeup artists usually know how many people will require their services. However, if there are more wedding guests who require the MUA's assistance, then the cost of the wedding hair and makeup packages will go up. 
What Is Included In Bridal Makeup Package?
The bridal makeup packages consist of all the beauty and cosmetic products like foundation, eye shadow palette, toner, eyeliner, kajal, blush, highlighter, bronzer, and more. 
The makeup artists should include makeup products that last longer. The colours of lipstick, eye shadow, and blush should go with the tone of the bride's skin colour. 
These days, brides are looking for a light makeup look. So, the makeup artists include light makeup products in their packages. 
For a minimal look, the makeup kit only needs a few products like lipstick, mascara, eyeliner, eye shadow, and foundation. 
How Much Should You Pay For Wedding Makeup?
If you want to say in your budget, then you should get the hair and makeup package that won't require you to make changes in other expenses. Sometimes, people can get excited and forget that they've to stick to a budget. 
The first thing you should tell the makeup artist is about your budget. Once they know about it, they'll show you the packages within that price range. 
Most makeup artists charge between the price range of $100 to $300 for doing the hair. The makeup average expenses for the wedding is $100 to $200. 
What Comes First Hair Or Makeup For Wedding?
For the wedding, the makeup artist should do the hair first. It is because the heating tools used to do the hair can cause the bride to sweat. The sweat will obviously ruin the makeup. 
Plus, making a hairstyle takes time. The MUA has to wash, dry, and clean the hair. Then they do hair sorting and combing. At last, they start making the hairstyle that was decided by the bride. It would take at least 40 minutes to an hour to do all these tasks. Therefore, a smart choice would be to do hair then the makeup. 
Who Pays For Brides Hair And Makeup?
Traditionally, it was the bride's parents who paid for these expenses. However, these days, many brides pay for their hair and makeup for their wedding. The brides choose to pay for their hair and makeup package, and they can also pay for close wedding guests and bridesmaids. 
Otherwise, the bridesmaids can get their hair and makeup done by the makeup artist hired by the bride and pay for it themselves. 
The cost of the makeup package can go up than what you and the MUA had decided on earlier. In a situation like this, the bride can ask her parents to cooperate and pay some amount. 
In Conclusion 
Wedding hair and makeup packages are those bridal packages consisting of many provisions that the brides need before and on their wedding day. These packages are decided by makeup artists. They offer to do the bride's hairstyle, her makeup, and they also help her in dressing up on her big day. 
The wedding hair and makeup packages need to be updated from time to time. It's because many changes happen in fashion and makeup trends in the world. As a makeup artist, you should deliver the bride what she needs.
Before you completely decide on a particular package, know that there will be other people besides the bride who'll need your help too. You should know what hairstyles would suit them, and what makeup look they should carry.