A reception outfit can completely transform your look. For many brides, it's the chance to change into an outfit that's stylish and fun but also incredibly comfortable. To help you pick the dress, we bring you a list of our favourite wedding reception outfit ideas. 
Whether you're the bride or the bridesmaid, looking for a budget-friendly dress or couture, we've got something for everyone! 
Read on for the best wedding reception outfit ideas for every style, budget and body type.
Reception Outfit Ideas For The Bride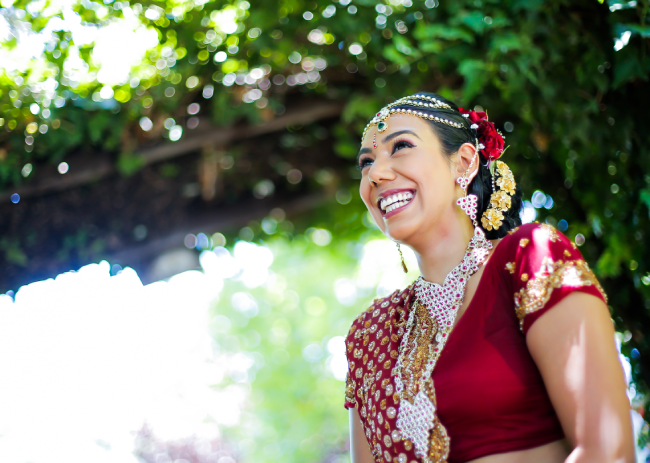 As the bride, here are four reception outfit ideas for you to choose from:
Red Lehenga:

Red is one of the dominant colours in Indian weddings and is, therefore, a primary colour choice for many brides. A red lehenga gives you a classy and poised look. Opt for silk or a Lucknowi style red lehenga. Carry a dupatta to go with the lehenga, wear matching gold and diamond jewellery. 
White Gown:

A beautiful and heavy white gown is one of the most popular reception outfit ideas that will make you look graceful. Choose an off-white coloured gown with beautiful embroidery and pair it with a delicate silver necklace, matching earrings, and a white bracelet. 
Indo-Western Gown:

As the wedding reception is the last of all the wedding functions, you can go for a comfortable and elegant look. If you are searching for reception outfit ideas that are a mix of something traditional and modern, an Indo Western gown would be a smart choice. In addition, it will make you glamorous. Opt for a gown in peach or blush pink colour. Other popular colours that you can choose are purple, pink, sky blue, lavender, and golden yellow. 
Saree Gowns:

Reception outfit ideas that are trending these days also include saree gowns. Deciding between a saree and gown is stressful. However, it does not have to be if you choose to wear a saree gown! If you love both of them, then why not wear an outfit that is a fusion of both? They will make you look gorgeous and sophisticated. Opt for a pink or dark green colour and wear gold jewellery to finish the look. For the reception, you will want to be comfortable, so select a soft fabric like cotton or silk. 
Reception Outfit Ideas For The Bridesmaids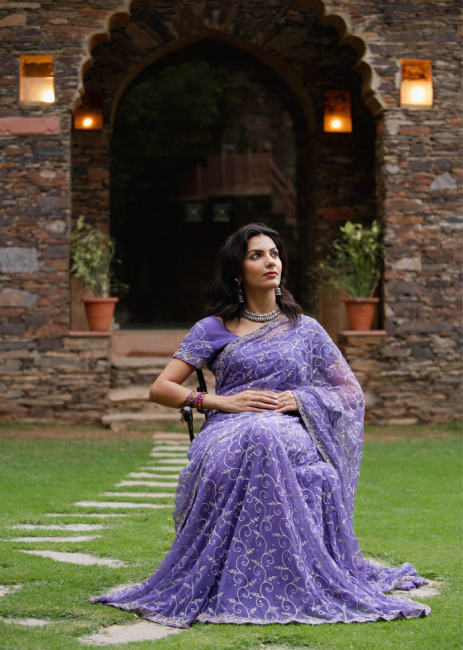 Anarkali Skirt:

Anarkali is a favourite traditional outfit of Indian women. Opt for a heavy Anarkali skirt in sky-blue colour and pair it with a contrasting blouse. Tie your hair in a bun, apply light makeup, and wear silver jewellery. Choose lighter colour shades like sky blue, blush pink, ivory, beige, or rose pink. 
Matching Outfits:

People have to know who the bridesmaids are, right? Bridesmaids are a focal point in wedding festivities, and they follow the tradition of wearing matching outfits. As the bridesmaid, opt for a rose coloured Salwar or a Sharara and pair it with a matching Kurti. Another one of the most popular reception outfit ideas for bridesmaids is an off-shoulder top with a layered skirt. 
Plain Saree with Heavy Border:

Many people avoid plain sarees in wedding receptions. However, plain sarees have their unique charm. Women wearing plain sarees look poised. Opt for a plain white saree with a heavy pink or red border. Finish the look by wearing heavy jewellery and makeup.  
Cape Gowns:

Cape gowns are trending these days among Indian women. Capes give a cute look to the gowns. If you are searching for reception outfit ideas that have a sophisticated modern look, then we believe cape gowns would be the best fit for you. Opt for embroidered gowns with long or short capes, and pair the look with gold jewellery. The fabric of the outfit should be relaxing and comfortable. Some fabric options you can pick from are tulle, silk, velvet, lace and chiffon. 
Western Ball Gown:

Reception outfit ideas can be both traditional and contemporary. Therefore, as a bridesmaid, you can choose to wear a western ball gown to wear to the reception. Opt for a lighter shade of pink or lilac colour and pair it with minimalist accessories. 
Reception Outfit Ideas For The Bride's Mother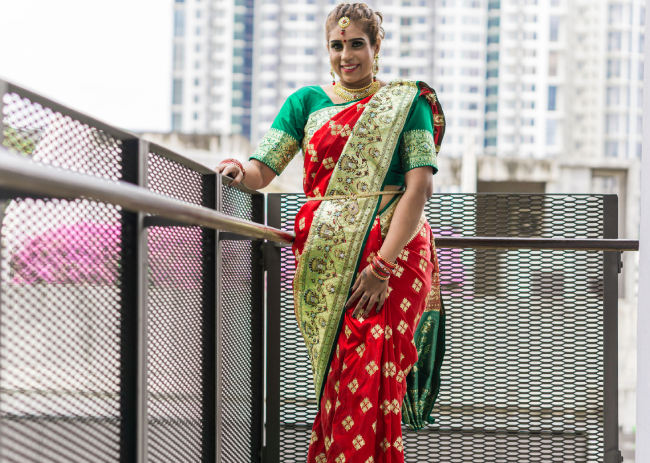 Here are four reception outfit ideas perfect for the bride's mother. 
Colour Coordinated Outfits:

A daughter is her mother's shadow. During the occasion of your daughter's reception, you can opt for colour coordinated outfits with your daughter. Picking out the same base colour and different outfit designs will make the mother-daughter duo look beautiful. Opt for red, pink, or green coloured outfits. 
Silk Saree:

A saree is the first choice for many Indian women. Since the reception is after the wedding, you can wear a comfortable outfit. Opt for a golden silk saree with light embroidery work. Pair the whole outfit with heavy gold jewellery. 
Red Banarasi Saree:

Banarasi Sarees are a very popular attire that women wear at weddings and receptions. Opt for traditional maroon or dark green colour and pair the saree with gold jewellery. For a last beautiful touch, tie your hair in a bun and add a

Gajra

to it. 
Heavy Salwar Suit:

As the bride's mother, you have to run many errands during the reception ceremony. Reception outfit ideas that promise you comfort and a flawless appearance is a heavy salwar suit. Many Indian mothers are fond of wearing salwar suits in wedding festivities. To look attractive, opt for a beige or light yellow shaded salwar suit. Some other lovely colour combinations you could choose from are peach and maroon, red and beige, pink and royal blue. 
Reception Outfit Ideas For The Bride's Sister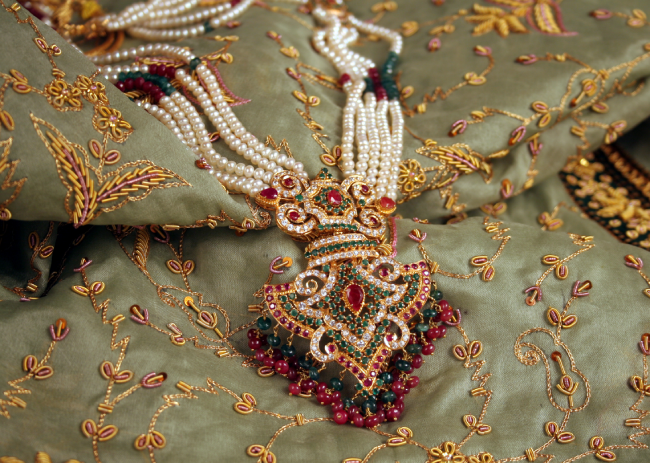 Here are four stunning reception outfit ideas for the bride's sister. 
Floral Saree:

As the bride's sister you are also the centre of attention in Indian weddings. You have to handle many reception activities with style and grace. Nothing is more stylish than a floral saree. Opt for a lilac coloured saree with contrasting flowers. Add matching accessories, apply heavy makeup on the eyes, and you'll be ready for the reception! You can also carry custom-made accessories to match the saree. 
Evening Gown with a Long Jacket:

If you are looking for reception outfit ideas that are simple and not too heavy, then this is the best choice for you. A simple evening gown paired with an embroidered long jacket is an outfit that will make you look classy. Opt for an emerald green gown and a red coloured jacket to look stylish. 
Crop Top and Palazzo Pants:

Palazzo pants are a favourite option for Indian women. These pants are comfortable and if paired with the right top, you would not have to look for any other reception outfit ideas. Opt for plain brown coloured palazzo pants and an embroidered crop top. 
Saree with Belt:

Another trendy outfit among Indian women is a saree with a belt around them. Women look beautiful in sarees, and a belt added to the outfit gives you a sophisticated look. Opt for an orange coloured saree with a solid coloured belt. 
FAQs
What Do You Wear To A Reception?
Women wear evening gowns, long dresses, crop tops and skirts at a wedding reception. A wedding reception is a formal event and there are certain rules that people follow at such events. 
Generally, people wear outfits according to the ongoing trends. The colour themes that people usually opt for are red, pink, blue, green, yellow, beige, peach, and white. 
Apart from the outfit, it is important that people choose the right accessories. 
What Should The Bride Wear On Reception?
Brides want to feel comfortable on the reception day. But with comfort, they also want to add a bit of style to their outfit. 
Indian brides who go for a traditional look opt for lehenga and saree. Brides who love to mix the Indian and Western world opt for Indo-Western gowns, ball gowns, and saree gowns. 
The colours that Indian brides go for include white, red, pink, orange, lilac, and green. The fabric of the outfit is also important. Brides should pick comfortable fabrics like cotton, silk, velvet, net or crepe. 
What Do You Wear To An Indian Reception?
Wedding guests at Indian wedding receptions wear traditional and modern outfits. Saree is the first choice for many women. There are different types of sarees that they wear to these functions such as Banarasi, Lucknowi, Kanjeevaram, floral and silk saree.

Other reception outfit ideas include lehengas, salwar suits, Anarkali skirts, evening gowns with jackets, and crop tops with skirts or palazzos. 
What Should I Wear To A Friend's Reception?
When you attend a friend's wedding reception, you should opt for some extraordinary outfits. 
You can wear a blouse with sharara, matching outfits with other friends if you are a bridesmaid. You can also choose to wear a ruffled saree, cape gown, Anarkali or lehenga. 
The colour theme is also important when you attend a friend's wedding reception. You should avoid wearing white or red, as brides mostly go for these colours. As a friend, you can choose to wear pink, yellow, green and blue coloured outfits. 
What Colours Should You Not Wear To A Wedding?
Black is a colour that you should never wear to a wedding. A wedding is an auspicious event that unites two people in a unique bond. The black colour adds a negative vibe to a wedding ceremony. Hence, even if the colour black looks good on you, you should avoid it at Indian weddings. 
In addition, avoid wearing shiny and skimpy dresses to the wedding. 
It's wise to check in with the bride or groom and ask them the theme of the wedding. Your outfit should be in accordance with the dress code they tell you. 
In Conclusion 
There you have it: stunning wedding reception outfit ideas that you can choose from for your own wedding or your friend's wedding. We have gathered a list of trendy and beautiful outfit ideas that will make you look both sophisticated and gorgeous. 
These outfits will definitely be remembered by the wedding guests, and you will get lovely compliments from all of them. 
Which of these wedding reception outfit ideas did you like? What is your go-to wedding outfit? Tell us in the comments section below!