Women and men often go to a beauty salon to get beauty treatments. These procedures help them in maintaining the quality of their skin and hair. They also help in improving the skin conditions that they have. 
Other than skin and hair, people also go to beauty salons to get their nails done. They may also get some massages, spas, tans, or body hair removal. 
This article includes a list of best practices that you'd need before opening your salon. We have also included some points that you should remember when you're hiring employees for the salon.   
What is a Beauty Salon? 
A beauty parlour or salon is the place where people go to get multiple types of beauty treatments. There are some differences between a beauty salon and a parlour, though. In a parlour, the artist or the professional offers only a few treatments and they're not as big as salons either. They also have a specific clientele, they either have women customers or men customers. 
Salons, on the other hand, are bigger than parlours. In a salon, the artist offers many types of services. There are salons that are only for men and for women, but people can find many unisex salons too. 
The location of a parlour may be a local community place. Whereas, a salon may be located in an area with more traffic and more movement of people 
The similar services that both beauty parlours and salons offer include hair care, nail care, skincare, or aromatherapy. 
There are many reasons that make beauty salons important. 
Relaxing:

Beauty salons offer a variety of services to people. You go there to get a massage or to get a facial. Whatever the services you're getting for yourself, you know that you'll feel relaxed after getting them.




When you go to a salon, you're taking a break from your daily exhausting schedule. So, going to a salon makes you forget your worries for some time. 
Loving Yourself:

When you go to a salon you can get beauty treatments like manicures, pedicures, or a facial. No doubt that you're beautiful as you're. But, you become more beautiful and fall in love more with yourself. 
Being Healthy:

Upon getting a haircut or skin treatment, your skin, and hair heals. There are many dead skin cells on your face, and your hair also gets dirt in it. Salon treatments ensure that you remain healthy. 
5 Things to Consider Before Opening a Beauty Salon 
Here's are a list of things you should consider before opening your salon:
Business Plan:

When you've got a business idea in your mind, you need to think of a plan. Business plans are important because they tell you how things should happen. With a plan, you know what are your first steps.




While making a plan, do the market research. Find out what is trending these days among people. 
Location:

You can't compromise on the location. Choose a location that's easily accessible for people. You can also get a location that is close to student hostels. Another good location would be a popular spot in your town or locality. 
Salon Equipment:

When you've got the space and location decided, you should pick the furniture. Get those furniture pieces that are easy and comfortable. Match them with the colour of your interiors. Besides furniture, buy all the cosmetic equipment you'll need. 
License and Costs:

You'll need to get the state's permission to start your business. Do follow the protocols and fill out applications. You'll also need to think about various costs and the salon's budget. There would be costs for painting, remodelling, and buying products. 
Salon Concept:

The concept is very important for your beauty salon. Your salon should have a welcoming vibe. Paint happy colours on your walls or go for neutral aesthetics. You can also keep small indoor plants in the salon. Don't just focus on making the clients look good. Pay attention to make them feel mentally at peace. 
6 Tips for Hiring Employees for Your Salon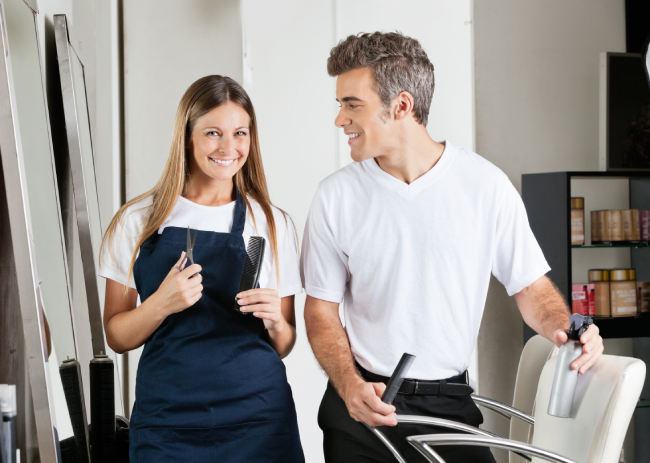 Before you begin with the hiring process for your salon, keep these tips in mind: 
Detailed Job Description:

You must include every detail in your job description. Include the main job title, skills, experience, and educational qualifications you'll need. Be very direct while writing it, no need to be vague here. 
Use Social Media:

There are many potential employees that you can find through social media platforms. LinkedIn is one of the best choices that'll help you find valuable people. Other than that, you can also use Instagram to ask for resumes or recommendations. 
Know What You Want:

It's important that you know what you want from the employee. You should know your priorities. Do you want someone who's a new person in the field? Do you want to train more people?




Once you know what you want, you don't have to be confused. 
Get Recommendations:

Another essential tip is to ask for recommendations. There may be many people in your network, ask those people. Find out if they know someone who'd like to work in a beauty salon. 
Hire Temporary Employees:

You can find the right fit for a job by testing through a temp. Hire a temporary employee and observe their skills. They may be lacking in some areas. But what's important is that they may improve after learning. 
Take An Interview:

Interview a potential employee. Ask them different types of questions. Don't keep the questions general. You need to test their knowledge as much as their skills. So, ask all relevant questions about the beauty industry. 
6 Tips for Running a Profitable Beauty Salon 
Running a profitable business doesn't have any shortcuts. You'll have to face many ups and downs, even if your business becomes big. 
There will always be newer challenges in this business. However, finding a balance would help you stay in the business for a long time. 
Respond To Customers:

Doesn't matter if the feedback you get is good or bad, you should listen to your customers. It's only this way that you'll know their needs. Once you'll know what changes they want, you can start improving.




Always ask for their reviews and respond to them if they've any queries. 
Be Sustainable:

Nowadays, many salons are offering vegan services in their businesses. They're making plant-based products and saying no to animal cruelty. So, make sure that you use those products that don't have a negative impact on the environment. 
Make Goals:

It's when you'll set clear goals, you'll be able to move your business forward. You don't need to make bigger goals that look unachievable. Think of something that you know you'll be able to do. It's better to have monthly goals set for each month. 
Teamwork:

You are not alone in your business. You have people that you can count on. You may be their leader, but you'll need their guidance as much as they'll need it from you. 
Keep A System:

You should have some things in order. There's no need to be extra disciplined. But, you need to keep track of daily and weekly operations. Know how much profit you made, know your strengths and weaknesses. 
Do Marketing:

You'll need to promote your business. Do that by using social media platforms. Have such marketing plans that bring you more customers. But also do your best to retain a loyal customer base. 
5 Types of Services to Offer in Your Beauty Salon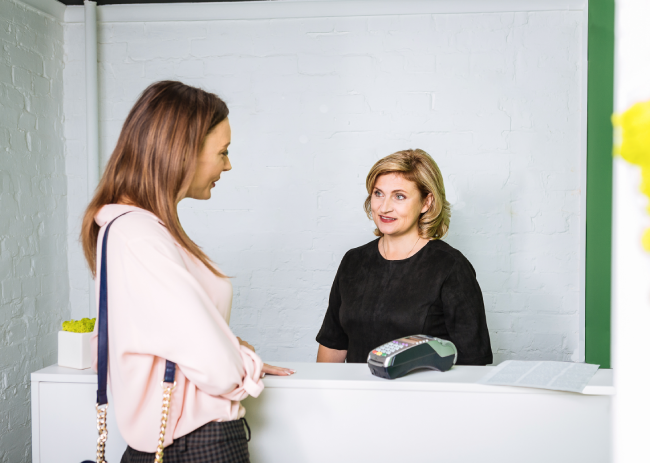 Here's a list of services you should offer in your salon:
Hair Care Services:

If doing hair care is your passion, then this service is a must for your salon. You can do different types of haircuts and hair colours. Many people like celebrity hairstyles, you may do something similar for your clients. 
Nail Care Services: Many women and men are into nail care, these days. You should do nail art designing in your beauty salon. There are many designs that you can do. You may do simple designs or you can also do gel-based designs. 
Waxing Services:

There are regular body waxing services that you can include on your list of services. Here, you may use different types of wax to do full-body waxing for customers. Besides full-body wax, you should also include facial wax. 
Makeup Services: You can offer makeup services for different events. There are bridal makeup services that you must offer. It is because it's not only the bride that gets the makeup done. Many of her relatives and friends would also need your services. You may also offer these services for events like business dinners, anniversaries, or birthday parties. 
Facial Treatments:

You may provide services for basic facial or deluxe facials. For the basic facial, you should do face cleansing and face massage. Make sure that you use safe products on the client's face. For the deluxe facial treatment, you may first identify their skin type. Based on that, you can do the treatment. 
Best Practices and Tips
If you're thinking of setting up your own beauty salon, these are some tips you should remember. If you follow these best practices, you'll gradually grow a loyal customer base for your salon. 
Make A Website:

Many of your clients will find you through your website. They'd want to know about your services, your prices, and your products. When you'd make a website for your salon, you should include the details on all these things. Pay attention to the interface of your website, keep it user-friendly.




If you already have a website, then you should update it according to the changes in your salon. 
Set Up Social Media Accounts:

Besides your website, social media is another important element that you should work on. You should set up social media accounts on various platforms like LinkedIn, Instagram, and Facebook. On these platforms, you can upload videos, pictures, and also discuss some beauty procedures. This way, people will get to know how you do haircuts at your salon. You can also talk about the importance of skincare and hair care. 
Do Seasonal Events:

Did you know that you can drive sales to your salon with seasonal events? You can leverage these events to increase your customer base. You can pick an event and promote your products or services. For instance, during the time of Valentine's Day, you can upload pictures of nail designs. These nail designs should be related to the vibe of Valentine's Day. Plus, you may also offer some discounts. Wondering why? It's because people love discounts! 
Offer Different Services and Products:

You can earn profits and have more customers with exciting offers. Do seasonal or quarterly sales. You can make offers like,

"Buy 1, get 2"

or

"Get a free haircut after purchase of 2 skincare products"

.
3 Most Successful Beauty Salons of All Times
Here are some of the most famous and successful beauty salons of all time. 
Neal's Yard Remedies, London:
View this post on Instagram

Based in the Borough Market of London is a beauty salon named Neal's Yard Remedies. This salon offers many skincare products to its customers. They have products for vegan skincare, men and women skincare, and travel skincare products. In their salon, they offer massages and aromatherapy to people. You can go in for a facial rejuvenation massage or for a scalp massage. They also sell skin care products based on people's skin types. So, you can find kits for oily skin, dry skin, or dull skin. 
Church Barber & Apothecary, San Francisco
View this post on Instagram

A salon that also has its own Spotify playlist, is fantastic, right? Church Barber & Apothecary is a salon based in San Francisco, USA, that plays an in-house playlist for customers. Other than that, the salon offers hair care services for men. For these treatments, they use plant-based products. The salon recommends Sunday service to the first-timers, wherein the artist gives full skin and hair consultation. After that, they give them a haircut and grooming regimen. More than normal haircuts, the staff at this salon can add any type of style or design to the haircut. 
Jean-Claude Biguine, India:
View this post on Instagram

The Jean-Claude Biguine is a beauty salon chain that has its salon in three Indian cities. In this salon, you can get many cosmetic treatments. The list of treatments includes hair removal, facial treatment, hair care, nail care, and more. You can also opt for their services for your bridal makeup. They can create any type of look from traditional, modern, to minimal. 
FAQs
What Is A Beauty Salon?
A beauty salon is a place where men and women go to receive various types of cosmetic treatments. There are many reasons that people go to beauty salons. 
One of the reasons people often go to a beauty salon is because they want to have a relaxing time. The beauty salons have soothing aesthetics and interiors that make people feel at ease. 
Many beauty salons pay attention to the kind of furniture they use and the music they play. This is because they want to provide their customers with an enjoyable time. 
Another reason why salons are important is that they help people in being healthy. Here, by being healthy it means that salons offer skincare, haircare, and nail care services to their clients. These services help in healing and improving people's hair and nail quality. 
What Does A Beauty Salon Provide?
Beauty salons offer many types of services to their customers. There are some salons that only offer limited treatments, like a nail care salon. In a nail care salon, you'd expect only to get pedicure, manicure, or nail art designs. 
However, in a beauty salon, you can expect many types of services. Many salons offer more than two or three types of services to their customers. They provide hair care treatments including haircuts, hair colouring, or hair extensions. 
In addition to that, they may also provide their clients with skincare treatments. In these treatments, they do facials, they do the whole cleansing of the skin to remove all kinds of bacteria and dirt from the face. 
What Type Of Business Is A Beauty Salon?
The beauty salon business is classified under the personal care services in the United States of America. It falls under the 8121 – Personal Care Services category of the NAICS or the North American Industry Classification System. 
This classification means that the beauty salon business falls under hair, nail, and skin services. However, beauty salons offer more services than these to people. 
They also offer tanning services and waxing services. In tanning salons, people go to get their skin tanned. In these salons, there are different ways a person's body gets tanned. One way is by spray tan, where the tan is sprayed on a person's body. On the other way, the client is exposed to very bright light that turns their skin bronze. 
In waxing salons, people go to have hair removal. They get their body hair removed by using hot wax or other different types of wax. Most artists apply the wax to a person's body, wait for a few seconds, then remove it with a waxing strip. 
Why Do We Need Beauty Salons?
People can't get the best beauty care treatments at home. People apply, make and do nail art by themselves. But, there are times when you only want a professional to do those things. 
There are only a few types of nail arts that you can do by yourself. If you don't have the right brushes or the right sized dotting tool, you'll obviously need to go to a beauty salon. 
When it comes to makeup, you can do a little light makeup by yourself with a few products. However, when you've to attend a close friend's wedding, you'd need professional help. 
One of the major reasons is that beauty salons help you with your seasonal skincare too. Many people get skin problems in the summer months or the winter months. During these seasons, one can go to a salon to get useful services for their skin. 
What Are The Five Types Of Salons?
Following are the five types of salons:
High Street Salons:

In simple terms, high street salons are those expensive-looking salons. Such salons have big windows and big posters on their exterior walls. High street beauty salons offer many types of services to their clientele. They do skin, hair, and aromatherapy treatments.
Mobile Salons:

Mobile salons are completely different from high street salons. Mobile salon refers to those salons where the salon employees travel to different places to offer their services. 
Spa Salons:

You'd find many spa salons in hotels or resorts. The reason many hotels have them is that they provide a relaxing time to the customers. 
Hair Care Salons:

Haircare salons offer many types of hair care services. You can go there for a haircut or colour your hair. These salons also help in styling people's hair for an event.  
Nail Care Salons:

In nail care salons, you can expect to get a pedicure or manicure. These treatments will clean your nails and remove all the dead skin cells around them. 
What Treatments Can You Get At A Salon?
Here's a list of treatments you can get at a beauty salon. 
Manicure

Pedicure 

Facial 

Hair Colour 

Hair Cut 

Hair Straightening

Hair Curling

Skin Tanning 

Hair Extension

Skin Cleansing 

Body Waxing 

Full Body Massage 

Scalp Massage 

Head Massage 

Aromatherapy 

Spa Services 
The Takeaway
A beauty salon creates a relaxing environment for both men and women. There are many treatments that these salons offer to people. There are massages, skin tanning, hair care, nail art designs, and so on. 
For opening your salon, you'll need to know the concept that you want for it. You should have a business plan ready for it. There are many products and equipment that you'll also need to buy. 
Then you'll need to begin with the hiring process. For that, you can ask family and friends for recommendations. You should also use your social media accounts. They would help you bring both, employees and customers.