Despite coming across challenges like any other business, the beauty parlor business is profitable and promising.
Nowadays, fashion game is really popular among people. Everyone wants to look appealing, beautiful, and handsome. 
A beauty parlor is a perfect place to give you your desired looks. Hence, everyone, regardless of age, hits the beauty parlor.
 It's estimated that the beauty industry generates nearly $6 billion. Surprisingly, the hair alone contributes 24% of the total revenue.
What's a better idea than starting your own beauty parlor to make a profitable business?
Once you establish your reputation in this industry, then the ball is in your court. You can easily expand it and make a decent amount of money.
However, this business is highly dependent on investment. If you have got enough money to kickstart, then you're ready to ace it up!
This article will help you if you're looking forward to opening your own beauty parlor and need complete guidance. 
It's an in-depth guide to opening a beauty parlor for all aspiring beauty owners who want to open their dream beauty parlor.
From tips for hiring employees to ways of running a profitable business, this article covers it all!
What's a Beauty Parlor?
It's a place to get beauty treatments. You can get your hair, nails, and makeup done.
According to the Cambridge dictionary, It's a place to get a good haircut and style to enhance your appearance.
According to Lexico, It is also a place to get basic hairdressing, makeup, and cosmetic treatments.
In today's era, we all want to look attractive and beautiful. Besides getting different treatments, it's vital to maintain them.
To maintain the glow and treatment, it's essential to take follow-up sessions by visiting beauty parlors.
The benefits of going to a beauty parlor cannot be obtained at your own house. You have to visit it to maintain the glow or the treatment. 
Getting a basic treatment done in a beauty parlor is worth the money. You can get it done every month while not overspending your money.
What Is The Difference Between Beauty Parlor and Beauty Salon?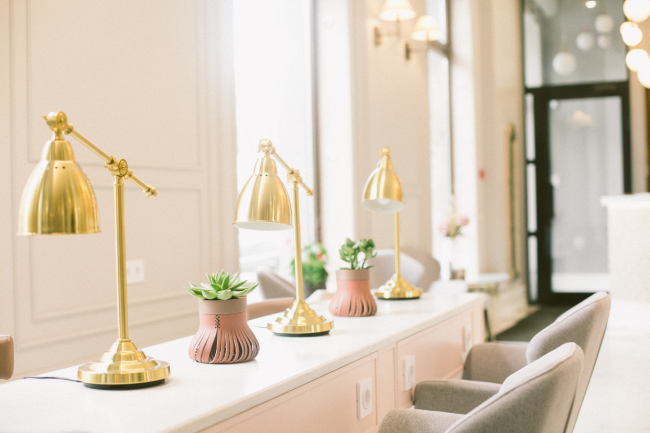 Everyone loves to pamper themselves. What's a better place than a beauty salon or parlor to get relaxation and beauty treatments?
Have you ever pondered on what the actual difference between a beauty parlor and a beauty salon is?
If you are still baffled, then here's a basic difference. Beauty salons offer a wider range of services and clientele than beauty parlors.
The services and treatments in a salon are often provided by beauty specialists, which makes it more appealing for the general public to visit.
There are a few other key differences as well which you should be aware of:
Speciality Services.

A beauty parlor offers a wide range of services with specialization. Each service comes with a technician who's specialised in that technique.

Whether you're looking to get nail art that is not so basic or get a stylish haircut, a salon is a perfect place to go. 

Otherwise, if you're looking for a place to get the basics done, then a parlor is perfect and affordable.

Welcomes all crowd.

A beauty parlor is more gender-specific and generally welcomes all women, much like a barbershop welcomes all men.

On the other hand, the beauty salon is quite expansive and offers all services regardless of gender.

It doesn't matter if you're a woman looking for a good haircut or a man looking for grooming or waxing services, the salon has got it covered.

Range of services.

The range of services massively differs when you're going to a parlor or a salon.

A beauty parlor is more focused on providing a particular service, such as colouring or hair cutting.

While a salon incorporates a plethora of services to cater to everyone, a

 beauty salon may include hairstyling but may also cover nail maintenance, tanning, skincare, and waxing.
5 Things to Consider Before Opening a Beauty Parlor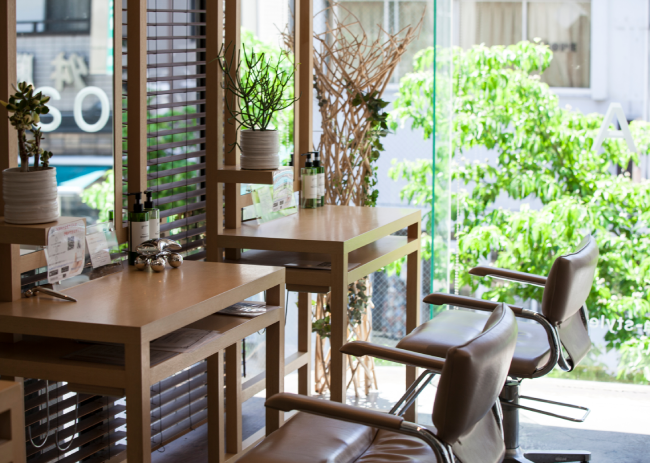 Despite juggling so many things in the parlor and managing odd working hours, opening a beauty parlor is promising.
If you have been thinking of opening a beauty parlor, keep these tips in mind before setting your own beauty parlor.
#1. Preparation
Just like any other startup, a beauty parlor business does require efficient planning.
To ensure that your beauty parlor garners incredible success, make sure you do diligent planning and come up with a good business idea.
The foremost thing to have in mind is to estimate the amount of investment you're willing to make.
Once you've determined how much an average customer will spend in your parlor, you can begin thinking about interior design.
You can easily select the themes, monthly rentals, ROI, target audience, and business fund.
After analysing the amount of investment and planning the services and themes, you can then draft the business plan.
You can show this business plan to any potential investor who's willing to invest in your business.
#2. The Investment Capital 
Generally, businesses require considerable initial expenditures, but overspending can turn out to be risky for a startup.
Compute your overall expenses, covering salary, rent, beauty supplies, etc.
Once you have a complete list, then you may choose any of these fundraising options to generate funds for your parlor.
Angel Investors.

Getting a bunch of investors can be daunting when you're a newbie in this startup world.

Generally, investors get drifted when they find a good business model, growth possibilities, and good quality beauty products.

Personal Funds.

If you have got your own personal funds, it's the best option to go with.

If you can find a good partner for the partnership, then go with it as it will save you money and divide the responsibilities.

Institutional Loans.

If you're running out of options and aren't able to find any potential investors, this is the best option. 

You can easily avail of different loan schemes from government institutions.

However, going with the banks can be a little cumbersome and the process might get formal.
#3. The Location
Location is the key factor in determining a profitable beauty parlor business.
Before picking any location, conduct extensive research on your competitors. 
You can have an idea about your competitors, their business strategy, customer engagement, and areas of their business.
While evaluating their customer engagement, don't ignore their clients' experience.
Are their clients satisfied? What services do they offer? What are their highlighted services?
Prepare your strategies accordingly. 
Pick a location that is easily accessible. 
Avoid looking for upper floors as they are often disliked by clients.
Prefer going with the main road locations. Remember to get a NOC (No Objection Certificate) before setting up the parlor.
#4. The Services
Beauty parlors aren't confined to haircuts. They offer a wide range of services, from hair styling to manicures, pedicures, and bridal makeup.
You need to list down all the services that your parlor is going to offer.
To enhance the customer base, you can use other services as well. 
You can add in beauty products as well.
#5. Get Your License Sorted
To run a beauty business, you need to get a license.
You can acquire it from any local government body. You need to get prior permission, and the expenses can vary.
The licences that you need to acquire to set up a beauty parlor business are business registration, GST registration, professional tax, and a trade licence from the municipal party.
How to Hire Employees for Your Parlor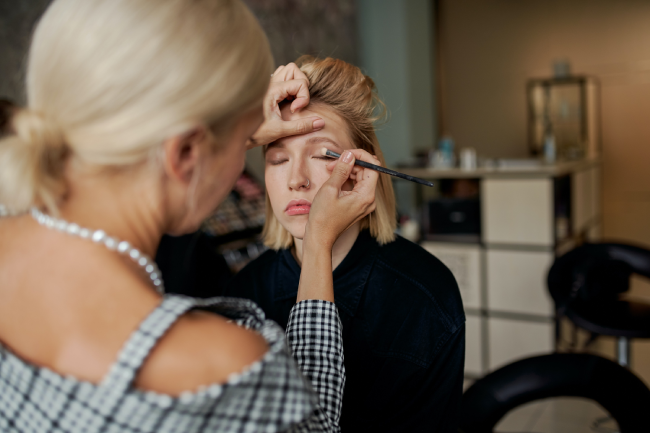 Hiring employees for a parlour can be a challenge, but once you hire the right candidate for the job, you will garner success in the long run.
Choose a candidate who has a good appealing personality, people skills, and can meet your business's overall requirements.
Before posting jobs online and conducting interviews, it's recommended that you ask your friends, relatives, and employees for candidates.
You can reach out to job seekers on social media.
3  Tips for Hiring Employees for Your Parlour
If you're struggling to find any, here are some tips to help you find the right candidate for the job.
Know what you're looking for.

Before hiring someone just like that or posting any ad, it's important to define your expectations of what you're looking for.

Imagine the kind of employee you'd want to hire.

Look for someone who knows how to talk to customers, who's a great hairstylist, and who also has a positive mindset.

Use Social media.

Social media can help you get tonnes of candidates easily. Why not make the most of social media?

If you have a page on Facebook with a decent number of followers, posting an ad on it can help you attract a lot of job seekers.

If not Facebook, Instagram can also help you get good candidates. You can either create a job ad or add it to your stories.

Why not try Instagram ads if nothing works? It can help you target a specific audience for which you're looking.

Ask for Recommendations.

Sometimes, getting recommendations from your family and friends can help you get potential candidates whom you wouldn't otherwise.

Ask people whom you can trust and explain the description of the profile you're looking for. They may help you get the best fit.

It's a great way to save some time and money. Moreover, you won't have to go through all the inadequate resumes and hectic processes.

Just ask people and explain the description and the kinds of expertise and skills you're looking for. 
How to Run a Profitable Beauty Parlor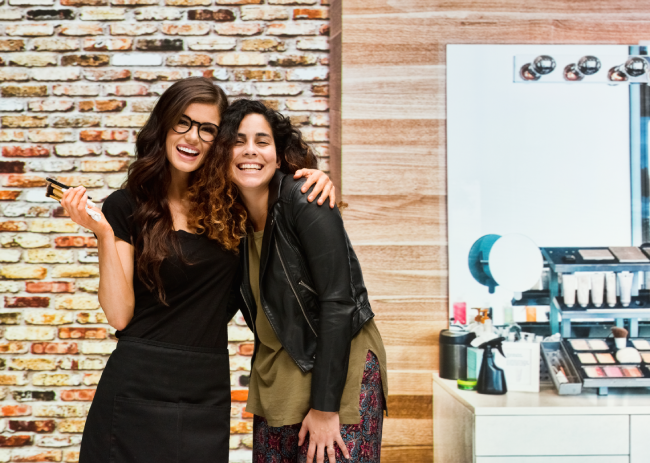 If run successfully, the beauty parlour business can be promising. 
Opening a beauty parlor is quite profitable, and the best thing is that it never goes off due to constant demand.
The basic skills before starting any business are entrepreneurial spirit and good management skills.
Besides, we have come up with a few tips that will help you help in setting up a profitable beauty parlor in the long run.
18 Tips for Running a Profitable Beauty Parlor
Planning is the foremost step before starting any business. You need a roadmap to follow.

Devise a good business plan in which you chalk out all the services that your beauty parlor will provide.

Include all the details, meticulously. Don't miss out on anything, including trivial things.

Gather all the information related to investment based on your plan.

Do you need any potential investors or do you require any loans? How much investment is required to set up the parlor? 

Do you have any personal funds, and if so, will they suffice?

Prepare the budget accordingly. Include all of the necessary licences and insurances.

Based on your budget, decide on the interior, themes, and the kind of parlor you want.

Chalk out a detailed list of equipment and infrastructure. What kind of services will your beauty parlor provide? Decide on the rates for your services.

Draft out some essential rules and policies to be followed.

Hiring the right staff is quite important. Make sure you train them well and that they are all well-versed in everything.

The profitability of any business depends on the clients. Make sure you serve your clients well.

You provide good quality services, including a decent ambience, friendly staff, and comfortable furniture.

Don't forget to have a good marketing strategy. Offer them attractive discounts or combos. 

In this era of digitalization, it's important to take your business to the next level and create your own website and get audience engagement.

Design an attractive website covering all the details, information and contacts of your parlor.

Publicize your website to get more customers. Besides, to build a strong network, publicize it through word of mouth as well.

Pull up your socks during a rough patch and always have a backup plan. It will help you overcome challenges.
3 Most Successful Beauty Parlors of All Times
Here are the top three beauty parlors that have set the bar.
The Roose and Spa.

This parlor is situated in Phoenix. It offers a wide range of services, from hair, to nails, to massage, to top-notch beauty services.

They believe in providing high-quality services with exceptional customer service.

Their strategies work based on customer preferences. They cater their best services.

The staff are quite welcoming and believe in providing exceptional services.

Joanna Vargas.

This incredible parlor is situated in New York. If you're residing in New York this is the best parlor to hit.

Within an hour, you can get a complete red carpet look. Their facial treatment gives you super glowy and supple skin in no time.

They use cryotherapy, microcurrents, and rich collagen masks to enhance the glow and de-puff your skin. 

It's super dehydrating and can completely change the look of your skin.

Tracie Martyn.

This parlor is located in New York. It's one of the best parlors to guarantee a beautiful skin appearance.

Their Martyn resculpting facial is a game-changer. It will make your skin look so glowy and relaxed as if you have had a two-week vacay.

Besides, their top clients include Kim Kardashian, Oprah Winfrey, and Rihanna.

They do provide a "red carpet" facial, which can miraculously transform the look of your skin.

It's made to reduce the appearance of wrinkles and lift the eye area.

It can firm up your cheekbones and jawline to make you look flawless.
FAQs:
What does a beauty parlor do?
It's a place where people go to get beauty services. They offer services ranging from hairstyling, to pedicures, to manicures, to makeup, to cosmetics, to nails.
Why is a beauty parlor important?
Beauty parlors offer a plethora of benefits that you can't get at home. It can completely transform your look and make you look more elegant, which boosts your self-confidence. It can enhance the glow of your skin and hair.
What industry do hair salons fall under?
The hair salon industry generally offers services related to hair. However, they may extend their services to include makeup and facials.
What services are offered at a Beauty Parlor?
There's a fine distinction between a hair salon and a beauty salon. Generally, they do offer both services. While beauty parlors may extend their services to include manicures, facial aesthetics, aromatherapy, skin health, foot care, etc.
What do you call a person that does makeup?
A person whose expertise in makeup is a makeup artist. These are professionals who do makeup.
In Conclusion
Unlike any other business, the beauty parlor business is quite profitable. You can make a good amount of money if you know how to run it.
Therefore, it's important to do extensive research and devise strategies before diving in.
These two factors can determine the success of your business, and that includes your clients and ambience.
Make sure you set up an attractive ambience and serve your client the best way possible based on your needs.
If you have a good strategy and a business plan, you'll ace your dream beauty parlor.
We hope this article has given you enough valuable insights into opening a beauty parlor. Make sure you dive in and set up a beauty parlor.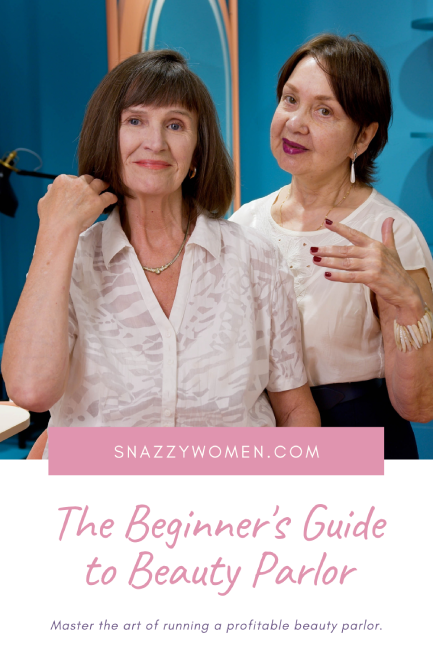 Also, read The Beginner's Guide to Choosing The Best Lip Filler