What don't you need in your bridal kit? Your kit has to have everything to create that stunning look. Asia is big and diverse. Just like that, Asian bridal makeup is diverse. Every bride is different from the other. Bridal makeup kits in Asia include a range of cosmetic products. 
Many Asian brides go for a heavy makeup look, while some of them go for a minimal look. Another thing that sets them apart is their colour choices. Southern Asian brides opt for colours like red, pink, orange, and blue in their makeup kits. East Asian brides opt for lighter colour tones. On the other hand, West Asian brides opt for a bold makeup look. 
In this article, we have mentioned a few of our favourite Asian bridal makeup looks. 
What is Asian Bridal Makeup? 
Asian bridal makeup includes many cosmetic and makeup products for brides. These are high-quality cosmetic products that are suited to Asian brides. Since Asian brides have different types of skin from Western brides, they have to apply makeup that doesn't react badly on their skin. 
Asian brides can opt for a light or heavy makeup look. Makeup kits for Asian brides include many products like eyeliner, eyeshadow palette, foundation, lipstick, and more. 
Asian Bridal Makeup – Indian Bridal Look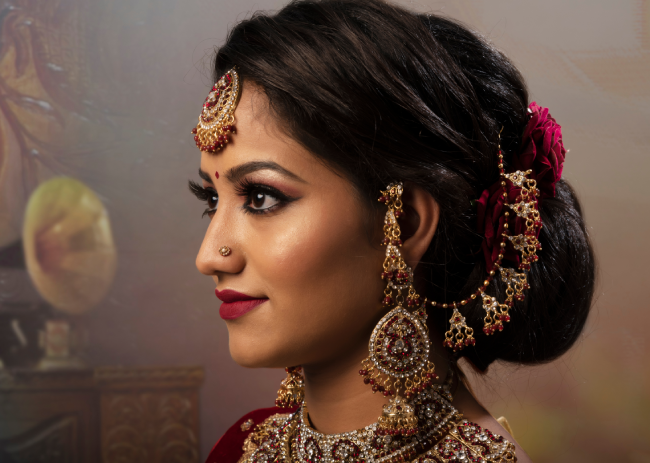 Most Indian brides wear a saree or lehenga on their wedding day. They wear beautiful gold or diamond jewellery as well. To complete their look, they do heavy makeup. 
Steps to create an Indian bridal makeup look:
Clean-up:

Use a good face wash to clean the face. 
Moisturizing:

Apply a moisturizer that suits your skin type.
Primer:

Primer makes sure that the makeup will stay on for long hours. 
Concealer:

Use a concealer to cover the dark patches and bare face.  
Foundation:

Here, you have to be careful. You should have a foundation that goes with your skin colour and tone. You can use rose water with the foundation so that it blends in the skin. 
Eye Makeup:

For the eye shadow, choose the colours that contrast with your wedding outfit. Use a matte eyeliner, waterproof kajal, and at last, two coats of mascara. 
Blush:

Apply the natural blush in rosy pink or light red colour. 
Lipstick:

Don't put on lipstick right away. First, apply some lip balm, it ensures that lips stay hydrated and soft. Then apply lipstick. 
Bindi:

The last and equally important step. Put a bindi on your forehead. Indian brides can have the best makeup; however, it'll be incomplete without a bindi. 
Asian Bridal Makeup – Korean Bridal Look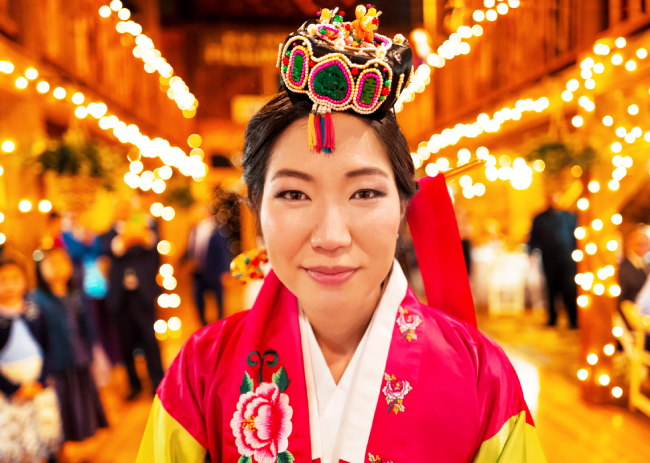 Many Korean brides opt for a no-makeup look for their wedding. The minimal look looks pretty and aesthetic on them. 
Steps to create a Korean bridal makeup look:
Clean–up:

The Korean bridal makeup starts the same, by cleaning the bride's face. To clean the face, you can use a cleanser. After cleaning, you can apply some toner on the face to fill in the pores. 
Moisturize:

Once all the dirt has been removed from the bride's face, she can apply moisturizer to her face. The moisturizer will keep the face hydrated. But don't begin with the next step right away. You should let the moisturizer lock in the skin first. 
Foundation:

For a minimal look, Korean brides apply a light water-based foundation. Any type of foundation will do the trick, just that it has to be water-based. Here, instead of patting the cushion on your entire face, just pat it to the heart zone. Heart zone means eyes, upper lip, chin, and cheeks. 
Eye Makeup:

Korean brides start eye makeup by making thick eyebrows. To make eyebrows, start by making the outer edges, then start filling them in. After eyebrows, make the lash line. Lining the upper eyelash makes the eyes appear brighter and bigger. Line the lash without smudging it on the eyelid. 
Lip Makeup:

For the lips, opt for gradient lips. This way, lips look plumper. You can also apply some lip gloss to the middle of your lips. 
Cheek Makeup:

At last, to finish the whole look, add blush. Korean brides love to have a moisturized look. So, when you apply blush to your cheeks, you should go for a cream blush. 
Asian Bridal Makeup – Pakistani Bridal Look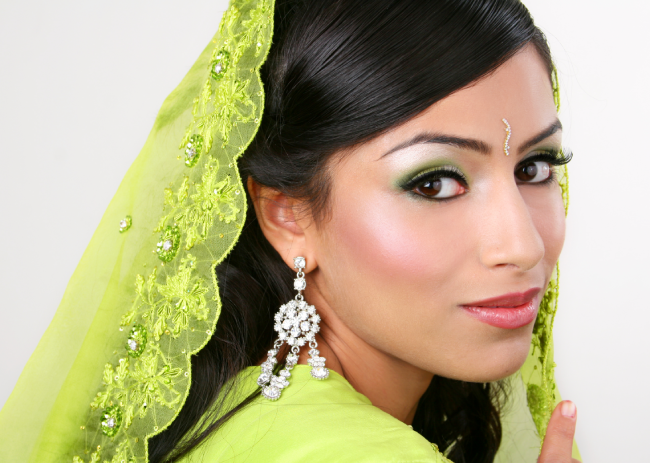 The beauty of Pakistani brides at their wedding is one that no word can fully describe. Just like Indian brides, Pakistani brides also wear heavy makeup at their weddings. 
Steps to create a Pakistani bridal makeup look:
Clean-up:

Before all the steps come the main one, i.e., cleaning the face of all the unnecessary dirt. 
Face Makeup:

Pakistani brides have those small and delicate, elfin features. They use a highlighter and contour to emphasize these features. You can start with a matte base and finish with heavy contouring.

After that, apply 2 or 3 shades of foundation. Next up is rosy shaded blush. Like Pakistani brides, you can apply blush beneath your cheekbones. That way, your bone structure is highlighted more. To finish the face makeup, apply a highlighter to the upper parts of the face as well.
Eye Makeup:

For the eye makeup, they match it with their outfit and use at least 4 colour shades. Two of the colours can contrast with the wedding attire, one is the highlighter, and the remaining can be one of the colours from the outfit. Here's how to do the whole eye makeup:
Apply one of the contrasting colours as the base and cover the lid. 

The other colour should be applied as a crease below the base 

Apply the highlighter below the eyebrows and in the inner corner of the eyes. 

Apply the shade that matches the outfit on the outer corner of the eyes. 

On the bottom lash line, you can apply the contrasting colours one after the other. 

Lastly, apply the matching colour on the back of the upper lash and at the bottom outer corner. 
Lips Makeup:

If eyes have a darker shade, then go for light lip colour. Otherwise, opt for a bold colour. 
FAQs
How Do You Do Asian Bridal Makeup?
Asian brides don't have a similar makeup look. Asia is very diverse and every culture in this continent has its ways to do bridal makeup. There are Indian and Pakistani brides who usually go for bold makeup looks. They don't use nude or neutral tones that much. The most common colours they use are red and pink. 
Apart from them, there are Korean or Thai brides who opt for lighter makeup styles. They focus on keeping their faces fully moisturized and dewy. 
How Do Brides Make Up?
Bridal makeup has to be flawless, the bride should look ethereal. Brides can have the looks that they desire, be it light or heavy. However, there are some general steps that all the brides follow to do their makeup. These include cleaning their face properly, applying some moisturizer to keep the skin hydrated, using foundation based on the skin tones, doing the eye makeup with eyeshadow, kajal, and liner and applying lipstick, either with a brush or by itself. 
How Do You Do Bridal Eyeshadow?
For the bridal eye shadow, you should choose matching or contrasting colours for your wedding attire. You can pick both lighter and darker shades. 
First, you need to clean your face and your eyes properly, there shouldn't be any dirt or gunk near your eyes. Pick the correct makeup brush and start applying the base layer on the eyelid. Then create a darker shadow in the eye crease, and on the lash lines. Finish by using a shimmery highlighter and apply it below the eyebrows.  
How Much Is Indian Bridal Makeup?
Indian bridal makeup costs around ₹10,000 to ₹40,000. Here are a few bridal makeup packages from India:

Body Polishing Bridal Package By The Golden Palms Hotel And Spa – ₹20,000 

VLCC Bridal Package – ₹23,000 to ₹30,000

Reception Bridal Package By Lakme – ₹20,000 to ₹22,000

Wedding Rituals Bridal Package By Kaya – ₹0,000 to ₹40,000

Bridal Glow Bridal Package By Kaya – ₹9,000 to ₹10,000
What Is A Bridal Makeup Kit List?
A bride needs her makeup kit so can do the touch-ups when they are needed. The wedding will have a lot of movement, dancing, and crying involved. These activities can ruin your makeup, so you should have certain essential items in your kit. 
A bridal makeup kit has many cosmetic products including a primer, concealer, blotting paper, mascara, foundation, blush, lipsticks, lip balm, setting powder, bronzer, makeup setting spray, eyeliner, eyeshadow palette, and kajal. 
In Conclusion
Asian bridal makeup includes many makeup looks, and all of them are heavenly and mesmerizing. Nowadays, brides are having a makeup look that they want to have. They know what their skin is like and what products it needs. 
The Southeast Asian brides, Indian, Pakistani, or Sri Lankan brides create a heavy makeup look on their eyes and face. They even add jewellery and other accessories to pair with the makeup. 
Every bride should have her makeup kit that includes all the essentials like liner, blush, foundation, moisturizer, and highlighter.