If you're a plus-size woman, then you must've heard many people tell you what's right for you. We're here to tell you that you can wear whatever you want. Moreover, you can wear it the way you want to. However, you can save yourself some misery with valuable plus size fashion tips. 
It can be difficult to find the right colour or fabric for your body. You may like the colour, but it may not suit your body very well. There are some fabrics that just don't do justice to your beautiful body. Many times, it's you who doesn't know where you can find the right attire. 
There are many problems that you've to face while styling your clothes. We are here to help you solve these issues. Throughout this article, you'll read many plus size fashion tips. These fashion tips will be useful when you go shopping for your clothes the next time. 
5 Best Plus Size Fashion Tips For Women 
Shopping for plus size outfits isn't as easy. There are many things that you've to keep in check. Not every cloth becomes the best fit for you. Outfits have different styles and patterns on them, you have to find one that looks the best on you. 
Here are the points that you have to consider when buying plus size outfits. 
Find a balance:

There are times when you end up buying those dresses that look too tight on your body. It may be because they looked good on certain body areas; however, you have to consider the whole look.




So, if the whole outfit is too tight, reject it. Always try to have a balance between a loose and a tight fit. 
Buy shapewear:

A good shapewear will highlight your natural curves. It would also help you in improving your posture. Get shapewear to have a more polished and fresh look on your body. 
Tailor your clothes:

This is probably one of the best plus size fashion tips for women. For every outfit, there was a general fit model that was used. The model may slightly be a different size than you, meaning the outfit would fit differently on your curves. Therefore, you'd need to tailor your clothes so they fit perfectly on your body. Make sure that you get the sizes correct, as mentioned above, you'd need to have a balance. 
Top 5 Plus Size Fashion Tips For Girls 
Girls should aim to look pretty and cute in their outfits. Following are some plus size fashion tips to create a beautiful look on you. 
Wear crop top:

You should get a nice crop top and pair it with a denim jacket. There are many online stores that sell cute crop tops for girls and women. When you're buying them, check the size chart clearly. 
Find your jeans:

With the crop top, you can also get a pair of jeans. Getting the right size of jeans is really important. The jeans shouldn't give you body ache or pain anywhere. If not jeans, then you can go for jeggings too. 
Opt for darker colours:

Dark coloured outfits will look good on you. They would not make your curves look too much. Rather, dark colours may be able to hide them too. 
5 Best Plus Size Fashion Tips on a Budget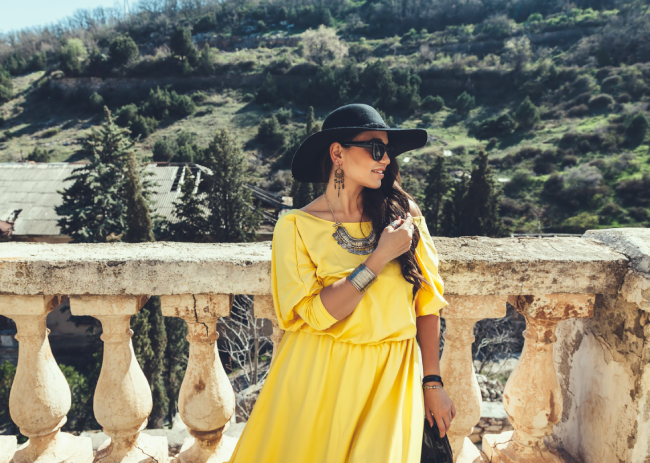 The above mentioned plus size fashion tips may empty your wallet. It's because plus size fashion has high and premium prices. There may be times when you won't have the budget to buy the dress that you really like. So, you end up buying something that you don't like. 
That doesn't have to be the case, though. There are many ways you can stylize your outfits while staying under budget. 
Here are some plus size fashion tips that will help you stay on budget. 
Shop online:

You'll find that online stores have many beautiful dresses for you. Not only that, but these dresses will also be cheaper than those in the physical stores. You need to check the size chart of the dresses you like. Also, keep in mind the sizes of outfits. 
Look for discounts:

When you'd browse through the online stores, you might find discounts on dresses. There may be seasonal sales on the stores or a "Buy 2 get1 free" type of offer. Another way that you can use discounts is by applying some coupons. Many stores make use of such coupon codes to provide their customers with good discount prices. 
Hop into outlet malls:

If online stores aren't your thing, then go shop at outlet malls. Outlet malls offer a good selection of plus size outfits. It is because these malls often sell outfits that are out of season. Plus, they may offer you a sale too. 
Be a loyal customer:

Loyalty can bring you many outfits or accessories under budget. How? That is because when you're a loyal customer for a long time, brands may treat you with a good deal. There are some that offer loyalty points to their long time consumers. Others may give you good deals based on your previous shopping. 
FAQs
What Clothing Looks Best On Plus Size?
One of the plus-size fashion tips that would make you look gorgeous is to opt for dark colours. Plus size clothes that are dark coloured look the best on plus size women. You may also want to get a dark coloured top with a V-neckline. You can choose from colours like navy, charcoal, black, or brown. 
How Can I Be Attractive To Plus Size?
Looking attractive while wearing a plus size outfit is an achievable task. All you have to do is find what you're looking for. The colours, sizes, patterns, fabrics, and so on. 
Once you know all these things, you may find many outfits that would make you look attractive. 
What Should You Not Wear Plus Size?
You shouldn't wear too tight clothes on your body. You may also think that baggy clothes would look good on you, but that's not always the case. Another one of the best plus size fashion tips you need to remember is that black is not your best friend. Black coloured outfits are recommended, but wearing too much black isn't always stylish. 
How Can I Make My Plus Size Look Thinner?
To look thinner, you should buy really good shapewear or a bodysuit. These types of shapewear will highlight the best parts of your body and also make you look thinner. With that, you can also buy some heels. With the help of heels, you'll add some height to your whole appearance. Eventually, you'd look thinner. 
What Clothes To Wear To Hide A Big Stomach?
To hide your belly, you need to get loose-fitting clothes. You can get some gowns or maxi dresses that are loose on your body. They shouldn't be too loose, though. You can also get jumpsuits or tops with vertical stripes on them, they'd look fashionable on your body as well. 
In Conclusion
There are many plus size fashion tips you can use to find the right outfits for yourself. You should know your size correctly before you try on dresses or order them online. 
You can get some cute crop tops for yourself and add favourite accessories to that outfit. There's also a need for tailoring your clothes, as the outfit may be a size up for you. 
Get colours that will highlight the charm of your body and will make you look flawless.