If you have got a knack for fashion, makeup, beauty or styling, then starting your own beauty blog can be a great way to follow your passion and make great opportunities out of it. Nowadays, all the resources to start a beauty blog are available to us in the comfort of our homes. So what are you waiting for? All that you need is your laptop, your unique take on beauty sprinkled with lots of enthusiasm! We're here to guide you to make the dream of owning a profitable beauty blog come true. 
What Is A Beauty Blog? 
A beauty blog is a website where an individual writes about different niches related to beauty, fashion, makeup, styling, skincare, and a lot more. Beauty blogs serve a dual purpose: creating a platform to showcase the knowledge and talent of the blogger and meeting the queries of the consumers. Though beauty blogging is considered a saturated market, it is still the most experimental and creative field. There is a lot of content that you can choose from. You can choose among styling tips, product reviews, product haul, cinema-inspired makeup, dressing up for different age groups (as per your target audience), and makeup hacks.
5 Reasons To Start Your Own Beauty Blog
Here are a few reasons you should start a beauty blog:
For the sake of your passion.

Think of the days when your styling hack saved you from a wardrobe malfunction or when you dressed up your friend for a date she was waiting for. In short, think of the days when your knowledge about beauty saved the day and made life easier for you and those around you. You know you have got the potential to help others and teach what they don't teach in the school textbooks.

It is really easy to start a blog.

All that you need to start a profitable beauty blog in today's age is a laptop, a stable Wi-Fi connection and your own unique take on beauty. There are so many software and websites available online that help you create your own profitable beauty blog and own it too. 

Making revenue from your passion.

There is nothing better in the world than to make money by following your passion. A profitable beauty blog can turn in big revenue for its blogger. There are a million ways to make money out of your blog. Ways to earn money through blogging are affiliate marketing, selling advertising space, starting your own product line etc. 

You don't need to quit your day job.

If you think that to start a profitable beauty blog you will need to dedicate the majority of your time and resources to it then you've got it wrong. Operating your beauty blog can be your secondary job which won't require you to quit your job. An Orbit study found out that most people take 3 hours and sixteen minutes to write a blog post. That means you can easily do it on the weekends or in between chores.
How To Start A Profitable Beauty Blog
Once you have made up your mind to follow your passion and start your own beauty blog, it's time to dive into the technicalities of the profession and we are here to hold your hand through the process. 
Choose a platform.

For those who are blogging for the first time, it might feel intimidating to go through all the technicalities. To make blogging easier and faster, we always recommend you choose a platform.

WordPress

is one of the platforms that help you create your website. This platform is absolutely free of cost, flexible ( helps you decide the theme and minor details) and doesn't interfere with the working, i.e. you own your blog to 100 per cent. 

Purchase hosting and domain name.

Given that you choose WordPress for your blog, you are going to need a hosting engine that powers your blog. While it sounds complicated, it really is not. All you need is a hosting site that will give you your own domain name which is owned by you. For the beauty bloggers, we recommend

Bluehost

. Bluehost helps you to own your domain name for just under a few bucks. 

Choose your domain name.

While Bluehost helps you to own your domain name, you'll still have to choose your own name. To make your blog stand out, you need to select a name that goes with your spirit, style and niche. You can add your name to give it a personal feel, or tell your audience that it is for them (mom's style guide if they are your target audience). Make your domain name totally you, however, keep a few things in mind:
keep it short and crisp

don't make it too specific that it becomes restrictive

Choose an original name 
How To Monetize Your Blog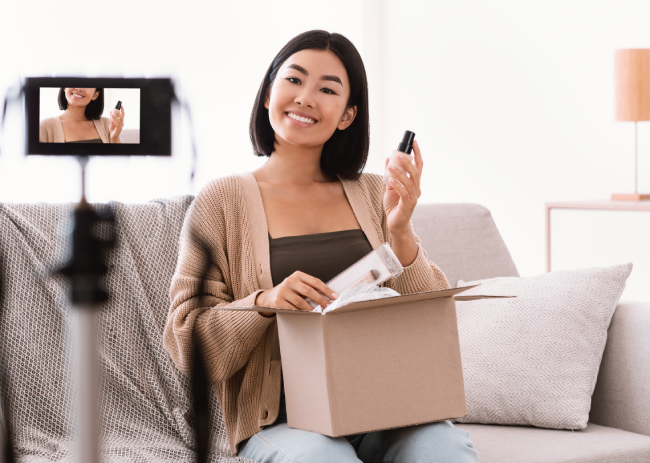 Once you set up your blog and start posting regularly, it might be a good professional decision to monetize it. A profitable beauty blog can help the bloggers to earn revenue up to the level at which it becomes their full-time profession. Here are a few ways to monetize your beauty blog:
Through Affiliate Marketing.

It is a way of earning commission from the external websites from the sales generated through your referral. You can join affiliate programs like

Amazon affiliates

where you can recommend the products on your site and earn the respective commission. However, in order to earn more commission, you must not advertise fake or poor-quality products as it will make you lose your audience. 

Through displaying ads on your website

. Have you seen random advertisements on a website? Yes, these ads help the owner of that website to earn money. Once you start getting a commendable viewership, you too can sell the ad space on your website to other brands for which they will pay you a fee. To make this lucrative, you'll have to promote your website and increase the user traffic

Turn your website into an online retail store.

Your blog can serve a dual purpose- it can provide information as well as sell the products. There are various brands that provide you with a platform to sell their products on your website. 
Top 5 Beauty Bloggers To Follow
Starting a profitable beauty blog can be a tiring task, both mentally and physically. At times, you might run out of inspiration and that is when you need someone to inspire you. Here is a list of bloggers that you should follow. 
Best Beauty Blog Names
Before giving you the inspiration to name your blog, we will focus on some key strategies to decide on a name. It is a crucial part that everyone will know your work. Keep the name short and crisp (add some wordplay). Make sure it relates to what you are trying to communicate through your blog. You can add your name to the blog to give it a more humanistic and personal approach.
Examples of the best beauty blog names are:
Makeup for me

Pretty soul's paradise

Nail tinder

All the glitters
Creative Beauty Blog Names Ideas
The tips to name your blog creatively are to use generic words( beauty, makeup, fashion, skincare, glow) with your niche and take inspiration from daily life too. Remember, inspiration can strike anywhere. 
Examples of some creative beauty blog names are:
Sarah's dressing table

Life of a makeup junkie

Confessions of a styleoholic 

Girls, gloss and glitter
Tips And Best Practices
To start a blog is one thing but to grow it and turn it into a profitable beauty blog you will need to follow some tips:
Promote your blog on social media.

A presence and community on social media go a long way in today's world. To ensure a strong viewership and attract more viewers, you need to create advertisements on social media, spread the word on your personal profile, and ask for questions and queries on the platform of the brand. All these steps ensure that the readers are aware of your posts and stay connected to your blog. 
Develop a niche.

Beauty blogging is a big market and you naturally won't be able to grasp everything in the area. You need to select your own niche and build a fanbase around it. You can write about nail art, makeup hacks, styling sessions, product review, skincare or anything you like. Communicate to the readers why you do it to help them connect to the blog more.
Make SEO your best friend

. For a layman, SEO is an algorithm that helps you determine the traffic on your website. For instance, you are writing about

'the top-10 lip shades of 2022'

. Then, the keywords here are

'lip shades of 2022'

. In order to make your site's beauty blog rank higher in the google search., make sure you use these keywords a considerable number of times. This will help you gain more viewership on your profitable beauty blog.
FAQs
How Can A Beginner Begin Blogging? 
Blogging might seem like a daunting task for a beginner considering all the technicalities and competition in the field. To start a profitable beauty blog, you need to decide what you want to write about. It can be generic skincare, yoga exercises for better skin or makeup for various occasions. You don't need to start with a niche. Experiment with different things and then know what you want to write about. To make the task seem less daunting, break the whole process into steps. Even if you follow one step each day, in one week you'll have your own beauty blog in front of you. 
How Do I Create A Blog In Skincare? 
Nowadays, skincare is a trending topic. People are focusing on products that make their skin not only look good but make it healthy too. A skincare blog can feature a skincare routine for a particular skin type, your own skincare routine for seasons, vacations and weekdays. You can review products that work for your skin and try different routines. However, make sure that your readers know that what you write in your blog is from a personal experience and not professional advice. Also always encourage them to check for the ingredients they might be allergic to. 
How Do You Make A Beauty Blogger On Instagram? 
Instagram is available with one click. It's easy to use and can be used as a readymade beauty platform. You can start blogging on Instagram even if you lack technical knowledge. To succeed on Instagram, you need to use aesthetically pleasing pictures and creative reels for engagement. Make sure you use proper hashtags to get more engagement and always stay in touch with your viewers. 
Who Is The Best Beauty Blogger? 
There is no best beauty blogger. The best blogger for you is the one who makes you feel good, inspires you and serves you genuine information. You can yourself decide who is the best beauty blogger. 
Should I Name My Beauty Blog After Myself? 
Some of the biggest beauty bloggers have named their blogs after themselves. It creates a bridge that connects the blogger and the readers at a personal level. You can name your blog after you combine it with what you plan to do. For example, you can call it Anne's makeup kit or Gemma's makeup brushes. 
In Conclusion
There is no magic mantra to creating a profitable beauty blog. You need to just throw yourself out there and see what you can exploit. As long as you are dedicated and your content is authentic, genuine and in favor of serving your viewers you are sure to have a successful beauty blog.