Teenage is that phase of life where people go through many physical changes. They grow hair in different body parts, they experience changes in their voice, and well, they also deal with skin problems. To deal with these problems, there is a lot of remedies or natural skincare for teenage skin. 
These skin problems may get worse if they're not taken care of. There are some teenagers who don't get any acne or pimples. This may be because of their internal body structure. People of the same age and gender can have a vast difference in their skin's appearance. 
We have discussed why skincare is important for teenage skin. We have also suggested some natural skincare for teenagers. 
The Importance of Natural Skincare For Teenage Skin 
To understand the importance of skincare for teenage skin, let's see what problems they have. 
Teen Acne:

It's the most common skin issue that teenagers face. The primary reason for this acne is the build-up of oil, dead skin cells, and bacteria. There's so much build-up of oil because of the overactive oil glands.

These glands become overactive because of puberty and hormonal changes in the body.
Extreme Sweating:

Many teenagers also experience an extreme amount of sweating. The reason for this may be stress. Some teenagers also have a condition called hyperhidrosis. In this condition, the teenager sweats excessively on a daily basis. 
Eczema Dermatitis:

Another common skin problem is eczema in teenagers. If you've had eczema as a kid, then you may get in during your teenage years too. This is a skin issue wherein the skin becomes extremely dry and itchy. 
Since there are many types of skin conditions that teens can have, they need skincare to deal with them. It's important to have natural skincare for teenage skin because if not treated on time, these conditions can worsen. 
Skincare will help you deal with your acne and it'll bring the glow back to your face. With a problem like eczema, you've to use some creams or medicines that have been prescribed by a professional. Many people deal with eczema even in their adult lives. So, it's beneficial if you treat it at the right time. 
When you start using skincare in your teen years, you'd lessen many risks for yourself. These risks are associated with prolonged skin issues that may continue for years. 
Moreover, you would want to have healthier and clean skin. Unhealthy skin can cause problems in ways you can't imagine. So, use proper skin care products to deal with skin problems.
The Best Natural Skincare For Teenage Skin 
There are many natural skin care products that you can use on your skin. Using these products will give you both, healthy and beautiful skin. 
Hydrating Moisturizer Teen Skin, Skwish:

This moisturizer from Skwish has protective and non-greasy oils for your skin. It contains blueberry oil, sea buckthorn oil, burdock root extract, and turmeric extract in it. 
AM Clarifying Jelly Cleanser, JAYA Beauty:

This jelly cleanser from JAYA is a natural skin care product. It'll help you in decongesting your pores. This product is cruelty-free, which means it's vegan and has 98% plant properties.
Purifying Gel Cleanser, Weleda:

This is natural skincare for teenage skin that helps in treating oily or blemished skin. The natural ingredients of this gel cleanser include willow bark and liquorice root extract. Both these ingredients act against the excessive oil on the skin. 
Peace Out Acne Serum, Cult Beauty:

This peace out acne serum will help you with dark spots and breakouts. The acne serum has vitamin C in it, which helps in treating the excessive breakouts of the skin. 
Violet Paste Overnight Blemish Treatment, Plenaire:

This violet overnight blemish works like a charm. You can use it to reduce inflammation and redness around your skin. You apply it overnight and then you can expect clear, clam, and bright skin in the morning. 
The Best Organic Natural Skincare For Teenage Skin
If you're looking for some organic skin care products and brands, then check out the following. 
Acure Beauty:

All the products of Acure beauty are 100% vegan. They are also paraben-free, mineral oil-free, and effective for a teen's skin. They also have very reasonable prices for their products. 
Cowshed:

Cowshed includes a variety of skincare products. Most of these products are used during the spa in Cowshed Spa at Babington House. You'll find that Cowshed has makeup remover, face masks, face cream, face wash, and more. 
Nourish London:

The skincare products of Nourish London are vegan and cruelty-free. They are also highly organic and extremely effective for a teenager's skin. Nourish London has those products that nourish and balance the skin without overstimulating it. 
Sand and Sky:

Sand and Sky is Australian natural skincare for teenage skin. Applying their products is fairly easy for teenagers. Their Pink Clay Porerefining Face Mask is favoured by many people. This face mask has won many hearts and beauty awards too. 
Skin and Tonic:

Skin and tonic is a brand that doesn't have irritants that many other skincare products have. Their products are effective for skin and they're gentle and fresh too. The best part about these products is that they don't have ingredients that disrupt the action of the endocrine. 
FAQs
What Should A 14 Year Olds Skin Care Routine Be?
A 14-year-old should use a cleanser that suits their skin type. You shouldn't use soap after it as it'll irritate the skin. If you have oily skin, then you should opt for a cleanser that has salicylic acid in it. Cleaners with lactic acid or salicylic acid help the skin by dissolving the dirt and unclogging the pores. Apart from cleaning, you should also use moisturizer, hand creams and face masks. 
What Should A 12 Year Old Use For Skincare?
A 12-year-old rarely does any makeup. But if for some reason they apply makeup, they should use a good makeup remover. They should also have a good face mask and face wash with them. If they also face an acne problem, then it'd be good for them to get a good acne cream. 
What Should A 13 Year Old Use For Skincare?
Natural skincare for teenage skin would require a 13-year-old to use sunscreen. A good sunscreen would give you healthy skin and also help you with acne breakouts. You should pick an oil-free sunblock. A 13-year-old should also use good quality skincare products that help them in controlling excessive oil on their skin.
Is Scrub Good For A 15 Year Old?
A scrub is good to use for a 15-year-old. You can use a scrub on your face or body once a week. Don't use too much scrub because it may not be good for your skin. Using too much scrub can over-activate your sebum glands which may lead to acne development. 
When Should Teens Start Skincare?
It's best to use skincare products by the age of 14 or 15. It's during this period that teenage people start developing a few skin problems. These problems can cause them to have unhealthy skin. If not treated, when they first start to appear, these can become a huge and uncontrollable mess. 
In Conclusion
Natural skincare for teenage skin is important because teenagers have many skin problems. They face the issue of excessive sweating and acne. 
There are many natural and organic skincare products that they can use to prevent these conditions. 
Just remember to buy the products that support your skin type. 
To prevent all teenage skin problems like acne and oil-based impurities, you can choose from top brands like Avon for healthy and glowing skin. It is a well-known and trusted brand. Here, you have an exclusive opportunity to join Avon and become a business partner, earn good and live your dream life.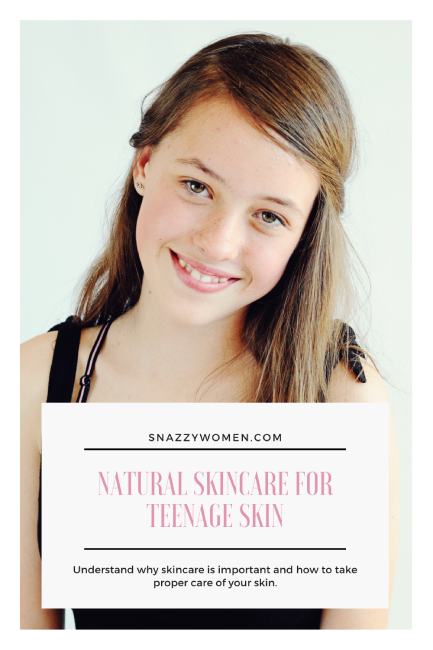 Also read: 14 Best Fashion Magazines to Buy RN