Kaneka introduced the world to Kanekalon, a modacrylic fiber, in 1957. It represents Japanese technology in synthetic fiber. Kanekalon hair has a soft texture that resembles that of real hair. It also features a technology that makes it possible to seal tips and fix curls. This is all done with the help of hot water while keeping the suppleness of the hair. That enables different hairstyles. In addition, the fiber is flame-resistant.
Kanekalon is used used in making synthetic braiding hair. It's also used to make other hair attachments because of its qualities and features.
You may be aware that braids are a protective hairstyle that encourages growth. However, the best part about it is that it's versatile. You can use an unlimited number of patterns and techniques. Braids are very adaptable and hassle-free.
Kanekalon hair is a soft, lightweight material that is kind to the tips of the fingers and the skin. Its natural appearance, which resembles human hair, is one of its extra characteristics. It has tangle-free qualities and the ability to create distinctive braided styles. It becomes helpful for the quick and easy creation of lovely hairstyles.
Kanekalon hair is flame-resistant. So, once the removal of Kanekalon hair takes place from the fire source, it will extinguish by itself. In addition, it is not prone to melting or spilling.
The fire-proof property remains unaffected by shampooing.
​Kanekalon hair is popular throughout the world. Women in Africa, North America, Asia, Europe, and Central and South America love it.
​
What is Kanekalon Hair?
Let's start by breaking down the fundamentals. You must be wondering, "What is Kanekalon hair?" and "What is Kanekalon made of?" as you research the trend. It's essential to know what kind of extension you're going to use. It is to ensure that they will complement your hair type and won't irritate your skin.
Kaneka, a Japanese producer, first introduced the world to Kanekalon. It is a soft modacrylic fiber that has a human-like feel and appearance. The extension is a combination of acrylonitrile and vinyl chloride. The purpose of this hair was to enhance a woman's natural hair and also to imitate hair products like wigs, weaves, etc.
Kanekalon braided hair is now in high demand among women. Because of its variety of hair types and textures, despite the fact that the process came from Japan.
Kanekalon is a synthetic fiber we prefer to use for styling and comes in a wide range of colours. In addition, the hair is suitable for heat styling thanks to the original technology. It is flame-resistant, but the manufacturer advises against using it too much.
Kanekalon has a "Hot Water Set" technology. It allows the use of hot water to set curls and seal tips to prevent loosening. This is all done while maintaining flexibility.
A variety of fashionable hairstyles are there to enhance your personal beauty. It is all because of the wide selection of colours and textures.
Why is Kanekalon Hair Trending?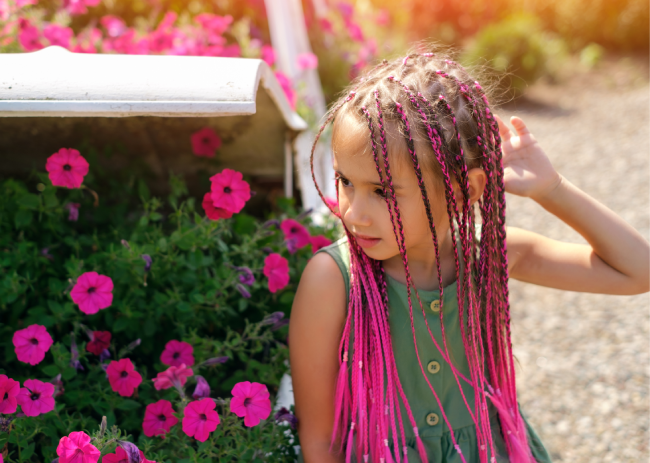 As is obvious, braids are among the hottest fashion trends right now. Not all women are capable of pulling off beautiful braided styles. They do not have the length and volume to get the exact appearance they want. While synthetic hair has always been a possibility, nowadays, women who want to enhance their braids turn to Kanekalon hair. They are fashionable, soft, and practical, making it simple to use these extensions.
Dragging up Kanekalon's hair in every kind of discussion on hair braiding is a norm nowadays. The term "Kanekalon" is well known regardless of whether you're in a braiding salon in Lagos or Harlem. 
For their creative potential, Kanekalon extensions are preferable to many women from around the world. Well, not without cause. They're a stylish alternative for women who wish to elevate their look.
One cannot remain unaffected by the Kanekalon tactile experience. The lightweight material feels so soft against the scalp and resembles human hair so much in appearance and feel. Its lack of tangles is one way in which it differs from human hair.
With the Kanekalon technology, you can maintain the flawless and firm appearance of your hairstyle. Complete the process by using hot water to set the curls and seal the tips.
4 Things to Know Before Getting Kanekalon Hair
If you're thinking about having Kanekalon hair, there are a few things you should know. Because, like any other protective style, it can be quite a commitment.
Your protective style will endure and be simple to install if you build it on a solid foundation. Cleansing your scalp is crucial to ensure there's no build-up on the scalp. Your hair will get braided up for around a month. Therefore, it's necessary to cleanse your scamp well. An unclean scalp will clog your pores and cause damage. This will slow the growth of your hair and defeat the purpose of the protective style. ​
Your scalp may grow somewhat dry as a result of not washing your braids as much as you should. Spraying water on your scalp will help to rehydrate it. You can also treat your dry scalp with other products, including coconut oil. But try to prevent product buildup because it will clog your pores. Keep your scalp clean and moisturized, since a dry scalp itches.
​
Protective behaviours are transient. It may be appealing to keep your braids in for as long as possible, but it can harm your hair. Consider how long you can leave your braided style in place and when to remove it. Various braiding techniques require different installation times.
​
Although they are entertaining and simplify styling, braids can also cause breakage since they weigh your hair down. Give your hair a rest between protective styles to give it a chance to breathe and recover. Apply strengthening masks and deep-conditioning treatments.

Any other procedures requiring you to stay hydrated and have healthy hair during this time between installs are ideal.
3 Best Kanekalon Hair Ideas
For your next look, Kanekalon hair is a great protective hairstyle! You can design the braided look of your dreams. This is because they come in a broad variety of pre-styled alternatives and different thicknesses and textures. Keep scrolling to get more ideas.
View this post on Instagram

This box braids hairstyle, includes braids that get knotted with different blonde strands. Finished with pearls that fit, completing the appearance. Pearls get substituted with golden beads. In comparison, these, feel more comfortable and apply less pressure to your edges and scalp.
View this post on Instagram

Ghana braids, also known as banana braids or fishbone braids in modern times, have their origins in Africa. The start and conclusion of Ghana braiding are what set it apart from conventional cornrowing. Every braid begins short, soft, and natural. Before becoming thicker and fuller in the middle and tapering off at the ends.  
View this post on Instagram

This is a method to use if you want to give yourself longer hair than your natural hair. And afterwards, adore the look of curly hair. Curly braids can highlight your best facial features and are very appealing. Depending on the length, thickness, and preferences, you can style your braids in a variety of ways. This includes wearing your hair in fashionable updos or letting it hang around your face to frame your features.
Top 3 Unique Kanekalon Hair Ideas
The variety of crochet braids is what makes Kanekalon hair beautiful. With a variety of hair textures, lengths, and sizes available, you can choose the appearance that best matches your style. Here are a few of our favourite ideas:
View this post on Instagram

Faux Locs, which should not be mistaken for dreadlocks, are a short-term hairdo that will make you look fashionable. If you like the Locs but lack the patience to grow your hair into them, this is an alternative. Make sure your fake Locs are not very dense, as this could put stress on the scalp and lead to breakage. This is not a viable option if you have thin or fine hair.
View this post on Instagram

Box braids are fashionable. They are an adaptable protective style that promotes healthy hair growth and minimizes breakage. Jumbo box braids are great if you wish to have all the eyes on you. You can make them in a variety of lengths and thicknesses. It is easy to put and looks good. It will look wonderful with the accessories of your choice, such as beads or vibrant string. The large size may bring out the curve of the braids. 
View this post on Instagram

Your hair can be up-do braided however you like. This might be more elegant and structured for formal occasions. Or it might be textured for a stunning, carefree feel. Leaving a few hairs out of your updo so they fall across your face is a nice idea. This will give you a romantic touch and soften your features. 
3 Most Popular Kanekalon Hair Ideas
Due to their flexibility, braids are great for women of all ages. They can also get their hair styled in a variety of ways. This includes different thicknesses and lengths of hairstyles. They may be protective braids, or long, loose hair. Here are some of the most popular ideas:
View this post on Instagram

One of the easiest updos to make and one that requires little time and effort is the ponytail. You can create ponytails that are long and make a statement. Or, you can make it lovely and textured by adding hair in for length and volume using braids. Ponytails suit most face shapes and look good on women of all ages.
View this post on Instagram

Four cornrowed components make up the braiding pattern for vixen crochet braids. It allows you to leave something out in the middle and achieve a smooth, organic finish. In addition, the method allows you flexibility by enabling you to style your hair in a variety of ways. They can be a ponytail or a half-up, half-down appearance.
View this post on Instagram

Women who want their hair to stand out could try the Havana Twist braids. Depending on how well you take care of them and the style, these twists can last up to eight weeks. They are beautiful and durable. They are also simple to apply. This is a great protective style for people looking to avoid heat styling while promoting natural hair growth. 
4 Best Websites to Buy Them
You still have a ton of choices to sort through even after limiting your search to Kanekalon hair. It already narrows down your braiding hair selections somewhat. We have gathered the top websites for you to buy from.
Etsy

: This is a great website for people to create, sell, buy, and collect one-of-a-kind products on the international internet market. They are a group of people working to change things for the better for the earth, people, and small businesses. 
Boho Locs

: One of the top online stores to purchase Kanekalon hair. The fact that every item produced by this company is handmade is one of its unique features.

They believe that more international hair businesses that cater to black women get owned by black women.

This is what they are most proud of.
Ubuy.co

: It is among the most affordable places to purchase Kanekalon hair. Their exotic selection of branded beauty items will make you feel comfortable. It will make you satisfied while enhancing your appearance and personality. They put their products through a lot of testing to make sure they are gentle on the skin. They also offer enduring appeal. With the correct decision, you can look gorgeous and feel amazing.
Natural babe co.

: Finding hair that looks authentic enough for Marley twists or Faux Locs is difficult, but Natural Babe Co. succeeded. The brand offers a realistic-looking texture in addition to a variety of hues to match every skin tone.
FAQs
What Is Kanekalon Hair Made Of?
Kanekalon has a texture that is similar to that of human or animal hair. This indicates that it will resemble your natural hair. The modacrylic fiber found in the hair gives the texture a human hair-like feel. To preserve the hair that gets exposed to heat or boiling water, there is the use of shrinking potential.
The fiber that gets used to create Kanekalon goods undergoes significant heat treatment. Because of this, it always proves to be more resilient when subjected to heat of any kind.
You will notice that Kanekalon offers superior durability because of its structure. When compared to using wigs, weaves, or braids, you can always anticipate that Kanekalon products will last longer. Various synthetic materials combine but they still have varying degrees of durability.
Is Kanekalon Safe?
Many people use synthetic hair, but dangerous plastics are still in use that have long-lasting effects on the environment.
The first step is to heat and mould them into strands. For creating synthetic hair, a combination of plastic fibers that resemble human hair comes into use. Components or residual materials from synthetic hair produce dangerous gases. These gases are released into the environment which is hazardous for us and our surroundings.
A typical synthetic fiber that is often used for braiding styles and is well-liked by hairdressers is Kanekalon.
Women's hormones are affected by the chemicals used in Kanekalon. The effects can include everything from a higher chance of hair loss to infertility.
However, Rebundle, a company that sells synthetic hair, wants to change that. To lessen the harm synthetic hair waste causes to the environment, the company has created its own recycling scheme.
Is Kanekalon Hair Better Than Synthetic?
Given that Kanekalon hair is still a sort of synthetic hair, you could assume that the given analogy is true. There are several major differences between Kanekalon and the other varieties of synthetic hair.
You may expect that because synthetic hair is made of artificial materials, it will feel similar to that of plastic. The distinction is that there are various ways to experience the Kanekalon sense. It would feel natural to Kanekalon, like human or animal hair.
It's understandable that you'll need to style your hair with curling irons, hair dryers, or steam.
The Kanekalon hair is excellent for styling because the heat does not cause it to lose its shape. However, for the other varieties of synthetic fibers, you cannot say the same.
In light of this, Kanekalon can be excellent for heat styling. However, this does not entail using excessive heat.
Is Kanekalon Real Hair?
The degree of sheen in the fiber makes it simple to distinguish between higher quality fibers and the rest. Lower-grade fibers have brighter appearances and less realistic movement and texture. The best synthetic fiber now on the market is Kanekalon.
100% human hair is used to create human hair wigs, hairpieces, and extensions. Like your own hair, it may get a trim, washed, coloured, blow-dried, curled, or straightened with heat. Because it must get restyling done after every wash, human hair will require more styling time and upkeep than synthetic hair. Human hair is more resilient but a little heavier in weight than other fibers. Human hair has the most realistic appearance. In addition, human hair of good quality will last longer than synthetic fiber.
If you want additional styling possibilities, using human hair is a terrific option.
Why Does Kanekalon Hair Itch?
Spraying of Akaline Lye is done on the hair to give it a heat-resistant covering. Alkaline is responsible for using boiling hot water to curl Kanekalon's hair and for burning the ends of the hair. In addition, Akaline improves the product's hygienic qualities and aids in avoiding mould growth as well as other growth. Even on the first day after receiving your braids, you might find it very irritating. This is because, unfortunately, many people suffer from irritation on the scalp by this coating.
But don't lose hope. You can reduce or prevent it by pre-treating the hair with a natural remedy like apple cider vinegar.
The removal of the alkaline base occurs with the help of apple cider vinegar. Once applied, it dries without irritating the hairline or scalp.
In Conclusion
Kanekalon hair is a great protective hairstyle. You can design the braided look of your dreams with them. They come in a broad variety of pre-styled alternatives and different thicknesses and textures. In the initial phase, after braiding cornrows onto the scalp as a base, crochet braids take place. Then, a crochet hook comes into use to thread the hair extensions through. 
You can style them as you like—whether it's with box braids or passion twists. Experiment with different styles and colours without harming your natural hair.
When it comes to styling, it is clear that the Kanekalon hair type is amazing. It won't lose its shape because it can resist more heat. You can style your hair in various ways.
You should also consider the health and environmental imbalances caused by the harmful elements used to make this type of hair. 
Your hair will grow faster if you wear braids made of Kanekalon hair. However, it costs a bit more to use human hair. Human hair will keep your hair more moisturized than synthetic hair, which is drier.
However, it's not wise to opt for cheaper products. Therefore, invest after researching and taking the advice of experts. Before adding Kanekalon hair to your shopping list, you must decide what you get for the money you pay. Then, get the style that suits you the most.
We advise you to use the best quality Kanekalon hair and get it done by professionals. At most, you will get good quality Kanekalon hair for $80 to $120. Therefore, don't wait anymore and get your own unique Kanekalon hair.
What do you think of Kanekalon hair? Which styles would you try? Tell us in the comments section below!