Weddings require many decisions. You've to think of your dress, makeup, hair, nails, footwear, and so on. Among these things that you'll wear, you can't forget the most important thing. It's the wedding venue, the place where you'll exchange your vows, should be as perfect as you. There are many factors to consider while finalizing a wedding venue. 
You've to think of the decorations, flowers, chairs and tables, candles, and many more elements. In this article, we have discussed what you need to know before you finalize the venue for your wedding. 
How to Choose a Wedding Venue 
When choosing a wedding venue, there are multiple factors you've to consider. Firstly, you'll need to have a wedding planner by your side. Wedding planners help you in arranging many things. These people are connected with many other people like caterers and MUAs. Not only that, but they may also be able to help you in getting a venue within a good price range. 
When you talk to the wedding planner, you should also discuss their packages. Get a package that would offer you the best services at a decent price. Think of your vision, style, and theme when opting for a package. Discuss these services clearly with the planners.  
Apart from the decorations, it's your guests who'll add more beauty to your venue. You've to know how many guests will be there at the wedding. Your venue should have facilities that'll make your guests feel comfortable. Do make sure that there are clean washrooms in the venue for the people to use. 
6 Factors To Consider While Finalizing A Wedding Venue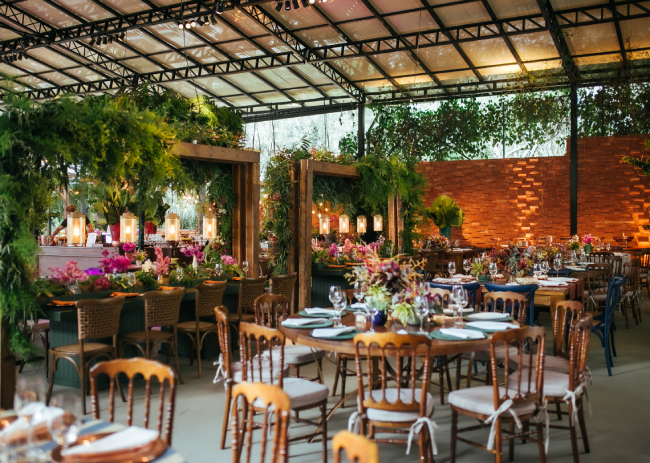 Here are some factors you should consider before deciding on your wedding venue. 
Location:

When choosing the location, you should know if it'll be easy for people to travel. If it's a destination wedding, then get a location that's near your hotel. The location shouldn't be too far away from the main city. In case there's an emergency, you should be able to travel easily from the wedding location. 
Number Of Venues:

It's not required to have the same venue for all the wedding festivities. You may opt for a different hall for your receptions and maybe a small garden for the main event. 
Theme and Style:

The wedding theme and style are extremely important. Even the most simple venue can look amazing with the right theme. There are many wedding themes that you may choose from. Some people take inspiration from pop culture and movies. 
Budget:

When thinking of factors to consider while finalizing a wedding venue, you need to think of budget too. You want a grand wedding for yourself, with everything that you've dreamed of. However, if these things are not suitable for your budget, you may want to opt for a small space with minimal decorations. 
Capacity:

When booking the wedding venue, you've to know how many guests can sit there. You don't want the hall or garden to be full of people. You should opt for a venue that has some open space too. 
Dates:

When you're booking your wedding venue, you need to decide on some flexible dates. You've to be prepared for any ups and downs that may happen. Therefore, you should book at least two dates. You may book one that's around your favourite season. Another date you may keep when there'd be less rush. 
FAQs
What Things Should You Consider Before Booking Your Wedding Venue?
There are numerous factors to consider while finalizing a wedding venue. You should think of the wedding dates. Your first priority should be the date that's special to both you and your partner. To play it safe, you should decide on second date too. 
Location is another important factor when booking a venue. You and your guests shouldn't feel uncomfortable when coming to the wedding location. Ensure that this location and venue can accommodate all your wedding guests. Before booking the place, discuss the whole guest list with your partner and family. 
The venue would look even more perfect with the wedding theme and style. You should decide what theme would look good in that venue. Think of the colours and decorations that you'll keep in the hall or garden. 
What Are The Most Important Things In A Wedding Venue?
The important factors while finalizing a wedding venue include all those elements that will make the day memorable for you. You should think of the photographs that you'd click on at the venue. You would want to capture every moment of this day. Make sure that your venue looks picture-perfect for that.
The staff at the venue should be helpful and friendly. They should help you out in case of difficulties. The staff members should also attend to your wedding guests. 
How Do We Select A Venue For An Event?
To select a venue for an event, you may get some recommendations first. Think of the parties that you had attended over the last few months. If you liked any of these venues, then you should talk to the hosts of that party. 
You may also search for the venues on the internet. When you're searching, look for those locations that are near your place. If not near your home, then opt for those locations that are familiar to you. 
How Do I Decide On A Wedding Venue?
Don't forget the most important factor to consider while finalizing a wedding venue, it's communicating with your partner. You'll feel stressed out if you sit and decide everything yourself. 
You need to listen to the opinions of your partner as well. Talk to them about what you want with the wedding venue 
What Is A Realistic Budget For A Wedding?
The wedding budget includes many things. You've to think about paying multiple people. There's the wedding planner, MUA, DJs, photographers, and so on. 
When deciding on the budget for the wedding, opt out of the unnecessary items. If you can do without alcohol, then don't include it in your budget. Many people do their wedding with approximately $28,000. 
In Conclusion
There are a lot of factors to consider while finalizing a wedding venue. You've to think about your guests if they'll be comfortable reaching the wedding venue. You've to know how well you'll be able to decorate the place. 
There's no reason that you've to keep a single venue for all your functions. You may opt for two different venues with different themes altogether. 
Most importantly, discuss these details and factors with your partner so that you've can decide it together.