Fall in love with these flirty, cute and budget-friendly Valentine's Day Outfit Ideas!
Valentine's Day is around the corner and it's best to plan your outfit in advance to ensure you look absolutely stunning. 
Whether you have a Galentine's brunch or a hot date planned, we've got an outfit that will make you feel fabulous all day. These outfits are cute and gorgeous, and they will impress your date immediately! 
We promise, our pick of Valentine's Day outfit ideas is perfect for all and any types of V-Day plans. 
#1. A Simple Top 
Wear a pink V-neck top that represents comfort and class. Opt for a top with a V-neckline, loose fit, and long ruffled sleeves. The pink colour at the occasion of Valentine's Day adds more romance to the day. Matching the top with denim jeans will give the whole outfit a fresh and pretty look. You can finish the look by wearing a minimalistic necklace and a watch on your wrist. 
#2. Burgundy V-Neck Sweater 
Looking for Valentine's Day outfit ideas that are both comfy and fancy? We think that a burgundy sweater that comes with a V-neckline, with long sleeves, and ribbed cuffs will be the best for Valentine's Day. You can complete the look by pairing the sweater with blue jeans. In fact, you can even wear this sweater over a gown. Choose this outfit and dress for any activity that you have planned for the day. 
#3. The Traditional Red Dress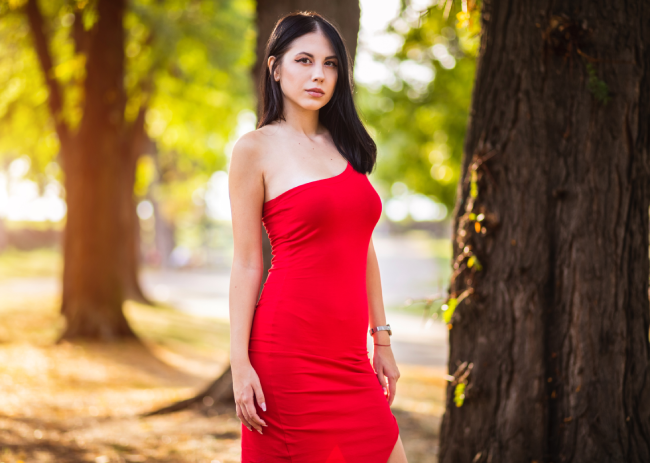 If you are looking for classic Valentine's Day outfit ideas, then this is the one for you. An elegant red dress that gives you a striking and confident look. Pick a dress with a slit on its skirt and a round neckline. Pair the dress with a pearl bracelet and a silver necklace. The dress will be a suitable outfit if you have dinner planned with your partner. After all, the spirit of Valentine's Day is incomplete without a red dress! 
#4. Long-Sleeved Floral Dress 
This is one of the best Valentine's Day outfit ideas that will instantly make you adorable. The cute flowery appearance of the dress matches the day's vibe. Select a dress with short sleeves, soft fabric, and loose-fitting. The flowers on the dress will give you an attractive look. With accessories like sunglasses, bags, and a hat, you will be ready for the day. 
#5. Effortless Mini Dress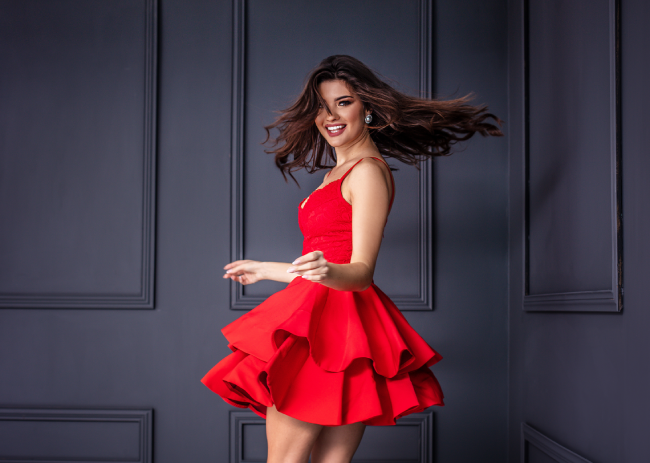 If you are looking for Valentine's Day outfit ideas that will be an easy pick for you, then go for a mini dress. You cannot go wrong with a cute mini dress. Opt a red-coloured mini dress with silk fabric and elbow-length sleeves. Pair the dress with accessories like shoes, bags, and a watch of your choice. 
#6. Button Down Corset Shirt Dress
Corset dress shirt dress is very popular these days. Almost everyone has one in their closet. Valentine's Day outfit ideas do not have to be limited to the colour theme of red or pink. Opt for a simple white button-down corset shirt dress and pair it with red pumps to make it appealing. If red's not your colour, then accessorise with a few chunky bracelets and a pink bag.
#7. Gathered Neckline Dress
This is yet another sophisticated look that you can opt for this year's Valentine's Day. A black coloured dress is the opposite of the bright colours associated with Valentine's Day, but who says you cannot do things a little differently? Opt for a dress that features a midi design, sweetheart neckline, long sleeves, and ribbed fabric. The key component of the dress should be the neckline that shows off your collarbone. Paired with stylish boots, this dress is bound to leave your partner speechless!
#8. Pink and Red Pyjamas 
When you think of Valentine's Day outfit ideas, you do not think pyjamas can be included. But sometimes, it's better to celebrate in a comfortable outfit. And what's cuter than a top and pyjamas? Opt for a pair of silk pyjamas and a shirt that's lightweight and soft if you're planning to spend the night at your boyfriend's. You can go one step further and switch the pyjamas for something fun like shorts. Just saying, the possibilities are endless…
In Conclusion
Deciding what you are going to wear on Valentine's Day does not have to be a big task. Knowing the colour, quality, and details you want early on will make it easier for you to shop for the perfect outfit. 
Our article features some of our favourite Valentine's Day outfits. All the outfits are stylish yet comfortable. They will surely impress your date and let you enjoy the day. 
What outfits are you planning to wear on Valentine's Day? Which brands do you prefer for V-Day shopping? Tell us in the comments section below!