Is your wedding date nearing soon? Are you nervous and frustrated with all the wedding prep? It is important to be calm and enjoy your wedding. It is your special day after all. Remember to take help from as many friends and family as possible, They would be happy and honoured to be a part of your wedding. Apart from being tiring, weddings can also be an extremely expensive affair. Therefore, to get married on a budget might seem like a dream.
The wedding expenses are endless and include the venue, wedding dress, officiant fees, food and drink and so much more! If you do not wish to spend a ton on your wedding, we have got you covered. We have a ton of tips and ideas on how to get married on a budget!
How Much Do Weddings Cost?
Wedding costs vary from person to person and how big or small you want your wedding to be. However, the average cost calculated was $38,500 in the year 2019. It then dropped to $19,000 during the pandemic. But is again on the rise post-pandemic.
A wedding is a beautiful and special day in your life. You want to make it special for your guests as well. A wedding includes a lot of expenses. The expenses include venue, catering, decorations, furniture, lighting, flowers, officiant fees, dessert, wedding dresses, wedding band, wedding, and engagement rings. Phew! 
These costs vary however based on where you wish to get married, your guest list, and what decorative items you already have. 
Various vendors are providing for your wedding needs. It is, therefore, necessary to check the prices and compare them to your budget. Don't settle on the first vendor. Compare and make an informed choice. 
We have you covered for your wedding budget. Check the Easy Budget site to prepare a budget for your wedding. Determining a fixed budget is important. Steps to determine a budget are as follows:
You should make a note of non-negotiables:

Non-negotiables are something you cannot compromise on.
Make a list of vendors

: Make a list of vendors to compare from. The list should mention their name, service, and price.
Prepare a guest list:

A guest list helps you to keep a track of people attending your wedding and also enables you to cut down once you have jotted down names.
Determine costs:

Determine how much you want to spend on each expense.
Organize cost:

Keep your wedding cost list organized and easily accessible.
How To Get Married on a Budget
Are you engaged and keen on getting married on a budget? Don't worry, we have you covered!
Look for Inexpensive locations:

A lot of affordable location options are available to get married on a budget. If you or your family members have a backyard or balcony, you can decorate it and get married there. If not, you can get married at city hall.
Know your budget:

Know what your budget is and how much you are willing to spend on your wedding. Never go over your budget. Keep a clear and realistic budget.
Decorate yourself:

If you are getting married at your house, you can decorate it together with your family. It also gives you a chance to spend quality time with your family before the big day.
Pick flowers:

Get your friends or family to pick flowers from their front yard if they have flowering plants in their garden.
Intimate wedding:

Cut down on random guests who you and your partner probably don't need. Just have close friends and family for your wedding.

Rent your wedding dress: You will be wearing your wedding dress only for a few hours so it does not make sense to buy a dress. Instead, you can rent it and save money.
Catering:

Try and cook most of the wedding meal together with your family. Since it is an intimate wedding, you would not have to spend a lot of time cooking.
Photographer: Ask a close friend who has photography skills to take your photos. They might end up charging you way less or nothing at all.
Getting married on a budget might seem like a lot of effort but you can put the money to better use.
Affordable Wedding Venues To Get Married On A Budget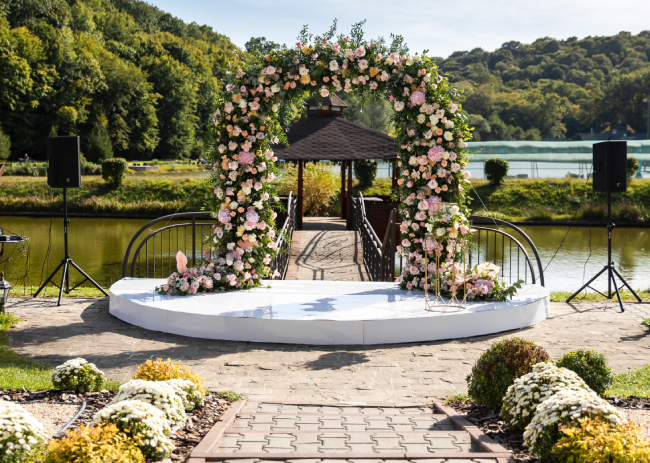 Here are a few ways for you to save on wedding venues. These are some of the most inexpensive wedding venue options for you to get married on a budget!
Courthouse:

The fee to get married at the courthouse is under $100 in most cities and free in some cities! Talk about getting married on a budget! Moreover, courthouses have a limit of 5-10 guests so you cut down on other costs too.
At Home:

At-home wedding ceremonies are increasingly popular because of how much you can save. You save on venue, decoration, accommodation for guests, transportation and so much more! You can also ask your friends or family who are photographers to click your pictures!
Parks and Beaches:

Parks and beaches have a scenic and beautiful vibe! The event fees cost only a couple hundred dollars in most states  In some states it might also be free.  You have to go through the local government site for relevant information.
Schools:

This might seem unconventional but this is a great opinion. A lot of colleges rent out their garden spaces or amphitheatre at competitive prices. Imagine getting married at your alma mater especially if you and your partner are college sweethearts. You get to relive the good old college days and also save on your wedding venue. Talk about a Win-Win Situation!
Museums and Libraries:

A hush-hush wedding at a library would sound like a dream come true for book lovers. Getting married surrounded by books! We got you covered as well art lovers. You can also get married at a museum in front of your favourite painting! These locations have very minimal event fees.
So, ready to have a dream wedding on a budget?
Food and Drink
You will be surprised as to how much you can cut on food and drinks! Getting married on a budget also requires you to spend less on food and drinks.
Wedding cake/desserts:

If you have a close friend or family member who loves baking, ask them if they could bake a wedding cake for you. Chances are they would be happy to do so. That way you also save on getting transportation charges to get the cake. You can also ask a close friend who has a cake shop. You can offer to advertise her shop at the wedding in exchange for huge discounts on the cake. You also ask her to not get presents and instead get the wedding cake for you.
Meal:

You should choose a time later in the afternoon so you can provide only one serving of food. That way you save on providing an elaborate sit-down meal. You can look for barbeque and buffet options.
Alcohol

: Keep buying Alcohol throughout the year whenever it is discounted. Then you can just display it in an old wheelbarrow or bin. Make a note of how much alcohol you might need and buy wisely.
Scout for newly opened catering businesses:

You can look for newly opened catering businesses online. The business probably would require promotion and more business. Make a deal with the business. You can promote them during your wedding and ask your guests to give them a review online. You can also discuss with your friend who is also engaged about using them for their wedding. That way you both can negotiate with the caterer for heavy discounts for a referral.
With these tips and tricks, you won't have to worry about food and drinks when planning to get married on a budget.
Budget-Friendly Outfit Ideas For The Wedding
A wedding dress is only used once for a few hours so here are our tips on how to cut costs on your wedding dresses.
Use second-hand dresses:

Using second-hand dresses is a great way to cut costs for your wedding. It can be your mom's wedding dress. The plus side is it also has an emotional value. It can also be something borrowed. It is also an environmentally friendly option.
Get it stitched:

You can buy the material and get your wedding dress stitched. Getting it stitched from a tailor rather than buying it from a bridal boutique is economical. You can also customize the dress to your liking and preferences.
Bridesmaids and groomsmen:

It is not a custom for a bride to pay for bridesmaids' dresses. If you plan on paying for your bridesmaid's dresses, make sure to give them a strict budget. If they wish to contribute to getting a dress they like and will wear again, then that's a bonus. Some might have a dress in the colour palette decided and want to wear their dress, that's also a bonus! As for groomsmen, they can wear their suits.
Look for collaborations:

If you have a certain number of followers on social media, you can collaborate with various clothing brands and promote them during your wedding. They need not provide you with cash sponsorships, instead, they can offer your bridesmaid's dresses and groomsmen's suits.
Rent:

Renting your wedding dresses and suits is also a viable option. Renting clothes is cheaper than buying because you will not wear those dresses again.
Wedding Decor on a Budget
Wedding decor can be quite expensive. However, with these tips and tricks, we have made getting married on a budget easier for you.
Pick the flowers yourself:

If your family members or close friends have a garden, you can ask them for flowers. More often than not they will agree to provide you with flowers for the centrepieces. The other option is foliage. You can use those instead of flowers. It is easily available and inexpensive.
Online Menus:

Instead of having menu prints, you can cut costs on stationery by having online menus. Create a nice design on websites like Canva and add it to a sharing platform. You can attach the QR code to access the menus. The QR code can be stuck at the corner of the centrepiece for guests to scan. That way you save on printing costs.
Wooden pallets and crates:

You can get Wooden pallets and crates for free from some local stores. So, use it to display your table arrangement, cake, etc.
Reuse:

You can reuse the same flowers from the ceremony for your reception. You can use them in centrepieces. That way they will not wither away.
Lights:

You can save a lot on lights by making use of natural light. However, that works only if you plan on having a day wedding. Moreover, The photographs turn out to be great.
Centrepieces:

People don't bother much about the table decorations at a wedding. Therefore, you can decorate and reuse old wine bottles or tea kettles as centrepieces. It is budget-friendly and also makes for cute centrepieces.
Now that you have these budget-friendly decor tips, get married on a budget and still have a cute and aesthetic wedding.
Tips and Tricks
We have a few tips and tricks to help you get married on a budget! These tips will help make your wedding simple yet great!
Choose a venue that does not need too much decorating.
Get the wedding cake baked by your close friends or family
Reuse the flowers at the wedding ceremony also as centrepieces.
If you are having the ceremony at home, decorate it yourself with what is available at home.
Reuse your favourite shoes. You save on wedding shoes if you have a pair of shoes to wear.
Grow your Instagram a bit so that you can have brand collaborations.
Have locally sourced vendors. If the vendors you choose are far away, you have to incur shipping charges. If the vendors are local, you save on shipping.
Have banquet-style food platters. It becomes easy for the caterer as well and is also not as expensive as traditional sit-down meals.
Have your wedding sometime after noon. That way you have to spend only one serving of food.
DIY your wedding invitations. You can save on invitations. You can also have online invitations. That way you also save paper and the cost of your wedding!
Have your close friend who is a skilled photographer click your wedding photos.
Turn your wedding favours into centrepieces. That way you save on spending extra!
Be clear about your budget with your vendors.
Know your negotiables and non-negotiables.
Cut costs on your bridal party
Make your favours yourself.
Choose an off-season day.
Borrow accessories from family or friends. It also counts as something borrowed.
FAQs
What Is The Cheapest Wedding Possible?
A courthouse wedding is the cheapest wedding option. A courthouse allows only 5-10 people so you cut down a lot on the guest list. You don't have to worry about the decorations. The fee is under $100. You don't even have to worry about your wedding dress. You can wear your favourite dress or gown and you are good to go.
A second option is a home wedding. You can decorate your house with whatever is available. You can also cook. If you have to cook, make sure to have the wedding late in the evening. That way you have to cook only a single serving. You can cook a simple meal. Cut down on guests. Have only people who are close to you on your special day.
How Do You Plan A Wedding On A $1000 Budget?
You can plan a great wedding for $1000. You can have a courthouse wedding. The courthouse fees are around $!00. The $100 also includes an officiant. The courthouse also has a limit of 10 people so your guest list is drastically reduced. So food and drinks with your group would be around $200.
You can also cut down on wedding dresses. Wear your favourite dress to get married on a budget. Then your flowers will cost you around $50. The spending up to now is approximately $300. You can choose an amateur photographer which would cost around $500. That means you will be left with $200. You can choose to spend that any way you like. You have a wedding now under $1000.
How Much Does It Cost To Marry In A Registry Office UK?
People in the UK, use registry offices to declare, birth, death, marriage, and also for wedding ceremonies. A registry building has numerous spaces for larger groups as well as intimate groups. The rules to get married on a budget in a registry office are the same as it is to get married anywhere in the UK.
Once you have chosen the registry office date and time for your ceremony, you must give notice at your local registry office. You have 12 months to marry from the date you have given notice. The last day to give notice is 28 days before the ceremony date.
The cost for the hiring room starts at £57+ for a basic ceremony. The notice fee is £35 per person and can go up to £47 if one or both of you are not from the EU. A marriage certificate costs £4-£10 if not already included.
How Do You Do A Quick Wedding?
A quick wedding is no rocket science. It requires proper planning and organization skills. To have a quick wedding you can get married on a budget at a courthouse. It is the quickest and the most inexpensive way to get married. You could skip on the vows. Just answer the officiant's questions and exchange rings.
You could also skip the reception and just have a brunch with your close 10 people after the courthouse wedding. All you need is around 30 mins to an hour for the wedding. 
Enjoy your day and spend quality time with your closest people instead of the ceremony. Make sure the ceremony is as per your preferences. Most importantly, you can get married on a budget.
How Do You Have A Big Wedding On A Small Budget?
You can have a wonderful wedding on a small budget. You can have a beach or a park wedding. The event fee only costs a couple of hundred dollars. You can do the decorations with the help of your close friends and family. Since a beach wedding is scenic, it might not need a lot of decorating.
You can rent your wedding dress or have it stitched. You can have the centrepieces on the table as favours. In addition, you can also reuse the name tags on the tables and customize the favours. You can pack the favours yourselves. Have a limited guest list.
Have locally sourced vendors. Use your favourite shoes for the wedding. Reuse the flowers of the ceremony on the centrepieces. Save on printing the menu. Instead, have an online menu. That way you can have a dream wedding and get married on a budget.
In Conclusion
Weddings can be tedious to plan. Especially if you have a budget crunch. Always be creative. Use whatever you already have. Buy alcohol whenever the supermarket offers deals. Then you can just display them in a wheelbarrow or the bar. Make sure to plan your budget a year in advance. Be clear about your budget with your vendors. Follow the budget but also do not compromise on some things that mean a lot to you, so you can get married on a budget.
The most important thing is to celebrate your love with your partner. It doesn't matter if you get married at some fancy venue with a fancy ceremony or at home with your loved ones.
Lastly, Talk with your partner and brainstorm ideas together. That way, both your ideas combined help your wedding planning process go smoothly. You are a team and both of you should provide input towards your wedding.
So, we have made getting married on a budget easy for you. Let us know in the comments what your dream wedding destination is and if you prefer a summer or a winter wedding!