Your relationship with makeup, maybe new or an old one. This pandemic has put a break in that relationship. The frequency of going out of the house has become lesser. So, you are not buying makeup as much as you used to. You scroll through the various expensive and beautiful makeup products on online platforms. 
Scrolling online is not the same as physically going to a shop. There is no one to help you with your doubts, the colours do not look the same, and sadly sometimes the product is of cheap quality. Therefore, you need to check many things before you go through the whole payment process. 
Throughout this article, you will find useful tips that will help you get the right makeup products. We recommend you check these things before you buy makeup and cosmetic products. 
Skin Type and Undertones
Everyone has different skin. Therefore, knowing your skin type is extremely important when you are buying makeup. Many people buy a product that reacts badly to their skin, then they blame the product. While this might be the case for some people, the majority of people don't know that it's not the product but their skin type. 
If your skin is dry, then buy a product that moisturizes your skin well. If your skin is sensitive, then buy a product that has less alcohol content in it. 
Apart from skin type, you should know your undertones. Undertones are either cool, warm, or neutral. Determining your undertone helps you choose the right shade of foundation for your skin. 
Ingredients 
If you are a person who is allergic to any ingredient, then you should thoroughly go through all the ingredients before buying makeup. Checking the ingredients also helps in making sure that your skin will not be harmed or irritated by the product in any way. 
Company Name or Label 
Shopping online requires patience and a good eye. There are cheap quality and fake products with the same logo as popular brands but with subtle changes in them. For instance, L'Oréal could be written as L'oreal or the logo of M.A.C could be written in a slightly different font.
Sometimes, when people are buying makeup, they get distracted by the advertisement for these products and end up getting scammed. 
Expiration Date 
It may come as a surprise to you, but yes, makeup products have an expiry date. Many makeup products have PAO (Period After Opening) or 12M (12 months) written on the seal of these products. Once you open the makeup product, you can see it on the inside. 
If you use expired skin care products, your skin might get irritated or have problems that might require immediate medical attention. 
FAQs
What Are The Things You Need To Consider In Buying A Beauty Product?
When you are buying makeup and skincare products, there are several factors you should check. The most important factor is your skin type and undertone. Understanding your undertones helps in buying the right foundation for your skin and knowing the skin type will help you choose compact, blush, and foundation. 
There are a huge number of brands that scam people by advertising false makeup products. These products may not include the mentioned ingredients, they may react badly on your skin or they may be selling an expired product with a false expiry date on it. 
You should also check the ingredients of the makeup product that you are buying. Even a single ingredient can cause more harm to your skin than you would expect. 
When Purchasing Cosmetics, What Do You Avoid?
Buying makeup products is not easy. Everything has to be checked twice, or thrice. When you look at cosmetic products online or offline, check their alcohol content. Too much alcohol can make your skin dry. 
You should also avoid parabens. Parabens keep the cosmetics germ free, they also have negative effects on the female reproductive system. 
Many cosmetic products are made using synthetic colours, these colours can cause acne and skin irritations. 
Another big no when purchasing cosmetics is talc. Talc or talcum powder absorbs moisture from your skin, leaving it dry. It has also been reported that talc can lead to ovarian cancer. 
What Is The Correct Way Of Purchasing Cosmetics? 
There are a few tips you should always remember when you are buying makeup. You should know the product. To do that, check the reviews and the product's popularity. 
Always stick to the trusted stores. Take recommendations from your friends and family members. If something feels "off" or if you're unsure of the product, it is better to follow your gut and avoid buying it. 
Buy chemical-free products. There are toxic chemicals that are included in the making of many cosmetic products. Always avoid parabens, phthalates, toluene, sulfates, and lead. 
How Do I Choose A Makeup Product For Beginners?
The beauty basics you need as a beginner include a primer, foundation, eyeshadow palette, bronzer, eyeliner, highlighter, lipstick, and eyebrow pencil.
In addition, you will need the right makeup tools to apply makeup to your face. You will need brushes to apply foundation and highlighter. So don't forget to buy makeup brushes when you are buying makeup. 
What Ingredients Are Bad For Face?
Mineral oil is bad for the face. It is found in skin creams, lotions, and cosmetics. It can stop the skin's natural ability to get rid of toxins. 
Synthetic fragrances that are found in cosmetic products are also bad for the face. They include many ingredients which aren't always labelled on the makeup product so you never know how harmful these ingredients can be. 
In Conclusion
When you buy a makeup product, you not only check its properties and ingredients but also check your skin requirements. You can get that flawless look when you do proper research before buying any makeup product.
Remember to purchase products free of toxic chemicals and ingredients that you are allergic to. 
You should always test makeup on a patch of your skin before applying it to your face. You can easily get a healthy glow-up for your skin type from a wide range of Avon products. Here, the company gives you a chance to join Avon and earn rewards.
What things do you consider before buying makeup? What is your favourite makeup brand? Tell us in the comments section below!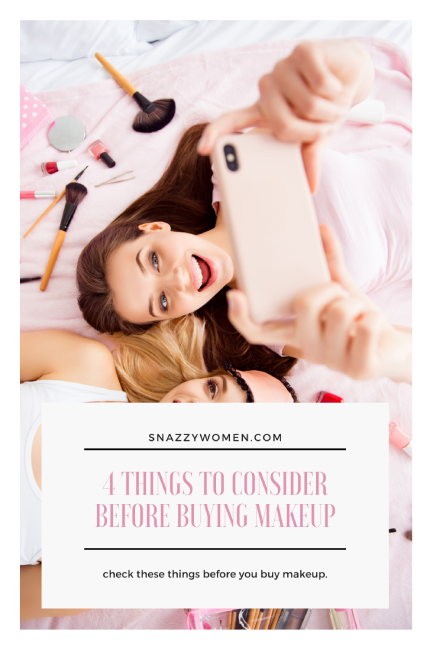 Also read: The Beginner's Guide to Beauty Parlor