There's nothing better than drinking Mimosas on a beach as you read your favourite magazines. To help, we've collected the best fashion magazines for women, men and teenagers so that you can choose the right magazines for yourself. 
In fact, you might even find a few new publications to subscribe to. Read on to know which magazines made it to our list.
What are Fashion Magazines?
Fashion Magazines are periodicals that give you an insight into the fashion industries of the world. Fashion magazines cover a wide range of topics in the form of articles and illustrations. Popular examples include life advice, relationship advice, beauty and fashion inspiration. These magazines are a source that helps you stay connected with the latest trends from across the globe. 
The Best Fashion Magazines For Women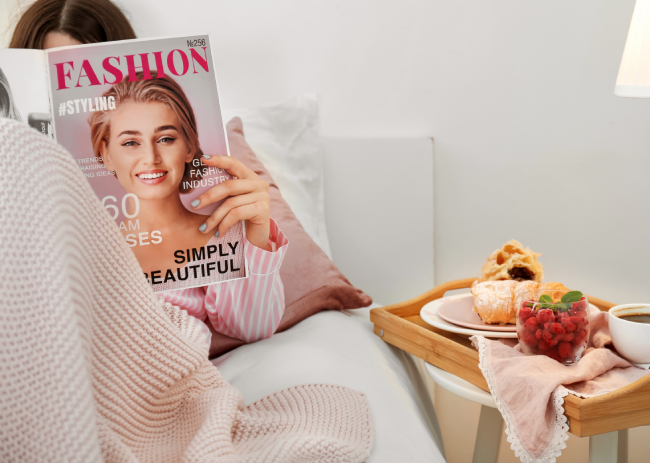 Vogue:

If you love fashion, then you must already be familiar with Vogue. It's one of the most famous and best fashion magazines out there. The magazine was first published in the year 1892 and covers topics like beauty, culture and fashion among other things. Many celebrities, athletes, politicians, and musicians have been featured on the cover of Vogue. 
Elle:

Elle is a French magazine that is known all over the world as a women's lifestyle magazine. It covers topics related to women issues, fashion, culture, and lifestyle. In addition, it also features relationship advice, health advice, beauty and skincare tips. When thinking of the best fashion magazines, Elle is the name you should not forget.
Cosmopolitan:

Cosmopolitan is famously known as

Cosmo

around the world. If you want to know the latest global trends, beauty advice, and other women-centric topics, then this is one of the best fashion magazines to keep on your reading list. Cosmopolitan deals with the topic of feminism with the theme of

"Fun Fearless Feminism"

. This theme has broken the taboo that surrounded the topic of feminism. 
InStyle:

InStyle is an American magazine that was first published in the year 1994. The magazine gives you a glimpse of celebrity lifestyles, home, fashion, beauty and philanthropy. InStyle is one of the best fashion magazines that not only covers celebrity fashion but also gives you a closer view of their home interiors. 
Business of Fashion:

Business of Fashion is a new age magazine. The magazine started publishing in the year 2007. BoF is the magazine that connects and informs people about global fashion trends. The magazine covers topics related to the corporate world and the fashion industry. The articles revolve around topics such as beauty, media, fashion week, workplace culture, global and financial markets. 
The Best Fashion Magazines For Men
Here are the four best fashion magazines for men.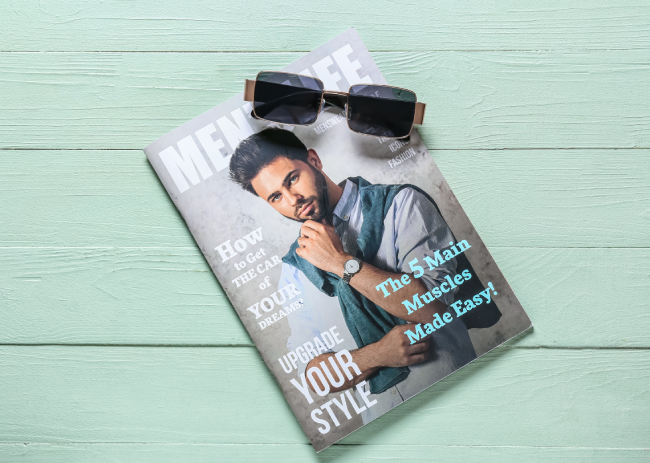 GQ Magazine:

Gentleman's Quarterly or GQ is one of the most popular and best fashion magazines for men. The magazine's publication started in the year 1931. The main focus of GQ is to fulfil the needs of men. Therefore,  it brings you the best of sports, music, travel, technology and fitness.
Esquire:

Esquire is a men's fashion magazine first published in the year 1933. The magazine caters to the needs of men covering lifestyle, food, fashion, sports and cars. The engaging content and subject matter of Esquire has made it a favourable choice for men to subscribe.  
The Man:

The Man is an Indian magazine that started publishing a decade ago. You can find the latest updates on technology, automobiles, fashion, films and art in this magazine. This magazine provides the right amount of entertainment and fashion advice for men. 
Man's World Magazine:

This is another one of the Indian fashion magazines for men. Man's World Magazine is also known as MW and covers topics such as sports, culture, entertainment and fitness. The magazine was first published in the year 2000 and since then, it has been one of the go-to choices for the best fashion magazines for men. 
The Best Fashion Magazines For Teenagers
Here are the five best fashion magazines for teenagers.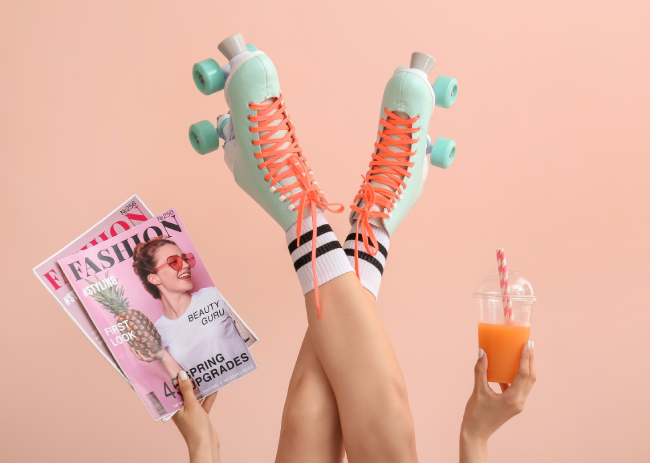 Teen Vogue:

Just how Vogue is popular among women, the same way Teen Vogue is for teenagers. Teen Vogue is one of the best fashion magazines for teens as it includes topics that teens take an interest in. You'll find everything from the best of beauty and fashion, celebrity news, horoscopes and culture. 
J-14:

Just For Teens or

J-14 is a magazine centred around teenagers favourite topics such as popular TV shows, celebrity gossip, beauty and music. The magazine was first published in 1999 and after so many years it still ranks as one of the most popular magazines for teenagers.  
Girl's Life Magazine:

This magazine as the name suggests is all about a girl's life. Girl's Life Magazine contains the topics of fashion, makeup, self-esteem issues, peer pressure, and time management. The magazine deals with heavy and light topics in a manner that helps young girl's find solutions to their problems. 
Seventeen:

Seventeen is a teen magazine that was first published in the year 1944 making it the oldest teen magazine. After many years of its publication, Seventeen still maintains one of the top spots in best fashion magazines for teens. From cute celebrity hairstyles to the latest fashion inspiration, Seventeen covers it all. 
Glitter:

It's a premier lifestyle magazine for 20-somethings and college-bound teens. It focuses on empowerment and diversity. This teen magazine has it all, from the latest fashion advice to relationship and life advice. 
FAQs 
What Is The Most Prestigious Fashion Magazine?
Vogue takes the top spot in being the most famous and prestigious fashion magazine. It was founded by an American businessman more than a century ago. At first, Vogue was published as a newspaper. A few years it took the form of a magazine. 
Since then, Vogue has successfully published in international markets. Today Vogue is published in many European and Asian countries such as France, the UK, Italy, Germany, Portugal, India, South Korea, Thailand and Singapore. 
Vogue also introduced other editions, including Men's Vogue and Teen Vogue. Men's Vogue stopped its publication after a few years, but Teen Vogue is still being published. Teenagers can read about the topics of politics, fashion, celebrity life, and culture in Teen Vogue. 
Vogue has been criticized many times but under the leadership of Anna Wintour, the magazine maintains a successful position. 
What Is The Difference Between Vogue And Elle?
Vogue and Elle are both fashion magazines. Every fashion enthusiast is familiar with these names. There are many similarities between these magazines, but they both have certain key elements that make them different from each other. 
Vogue is an American fashion magazine that was first published in 1892. Meanwhile, Elle is a French magazine that was first published in 1945. There is an age difference in these magazines of more than 50 years. 
Vogue is a magazine that targets the lifestyle of rich upper-class people. This magazine is preferred by an older and mature audience. Elle, on the other hand, attracts younger readers. 
Which Vogue Is The Most Prestigious?
Vogue started its publication in America, and it slowly expanded its business to other parts of the world. That is why there is a greater preference for Vogue's US edition over the other editions.  
Vogue US covers topics that interest people from all over the world. The popularity of US media, fashion, celebrities, and pop culture is also the reason Vogue US is known to be the most popular. 
Anna Wintour, the editor of Vogue US, has a powerful image in the world of fashion. It is her influence that also makes Vogues US popular among the different vogue editions. 
Is Vogue A Good Magazine?
Vogue has been evolving its content to keep with the changing times. The magazine is always covering the latest fashion trends and highlighting the cultures of the world. 
Vogue is a magazine that supports women. Women of different cultural backgrounds, races, colours and ethnicity feel connected and empowered because of the magazine. The magazine spreads awareness on issues that are important in the world. 
The fashion magazine that is now so much more than that helps people in their different aspects of life. It helps people learn about clothes, fashion, cultures, politics and feminism. 
Therefore, Vogue is a good magazine and it is the first choice for many fashion lovers. 
Why Is Vogue So Popular?
Vogue started its publication in the late 1800s, and over 130 years later, it is still publishing successfully in so many countries around the world. 
The magazine was solely focused on fashion, but over time it started covering various topics. It's a magazine that is centred around women and their issues. However, men too can find their topics of interest in Vogue. 
Many people see Vogue, and they think of the person who has been leading the magazine for a long time. Anna Wintour and her partnership with other powerful brands of the world places great importance on the magazine. 
Vogue and its editions are read by many people from different backgrounds of the world. The inspiration and advice that the magazine gives to its readers is the reason they pick Vogue over other magazines.  
In Conclusion
If you love all things fashion, then you probably always keep an eye out for the best fashion magazines. 
Almost all magazines mentioned in our list have a digital subscription. But, we believe there's nothing as satisfying as flipping smooth, glossy pages of your favourite magazine!
Which are your favourite fashion magazines and why? Tell us in the comments section below!