Babydoll dress makes you look pretty and hot at the same time. Many celebrities wear babydoll dresses as everyday wear. These dresses are also worn at parties, dinners, and lunch dates. Many people also get babydoll dress for honeymoon. 
If you're one of those people who want to get a babydoll dress for your honeymoon, you're at the right place. 
In this article, we have given tips to style your babydoll dress. We have also mentioned some websites from where you can get the best babydoll dresses. 
How to Style a Babydoll Dress for Honeymoon 
Even though you can style your dress the way you want to, there are some helpful tips you can use. 
Wear a leather jacket:

If you're wearing a silk babydoll dress for honeymoon, then add a leather jacket to it. Leather jackets are stylish and classy. The dress would soften the whole outfit and give you a feminine look. Opt for a black leather jacket. However, if your dress is black, then go with a different colour. 
Wear a kimono:

Kimono is a traditional Japanese outfit. It is easy and has a relaxed fit. It is made from 4 pieces of a single fabric and is sewn in a T-shape. You can use a short kimono just like a leather jacket. If your dress has a light colour, then choose a contrasting shade for the kimono. Opt for a light kimono that has a floral design on it. 
Pair with high heels: Oh, you know how great you'd look with high heels! Pair the babydoll dress with decorative stiletto heels. You can also choose black Cuban heels as they'd go great with leather jackets too. If your whole outfit has cute vibes, then go for kitten heels or wedge heels. 
Add accessories:

Don't leave out the accessories. Wear a watch or a bracelet on your wrist. Keep the accessories to a minimum, though. If you wear too many items, you can ruin the look. 
Best Babydoll Dress for Honeymoon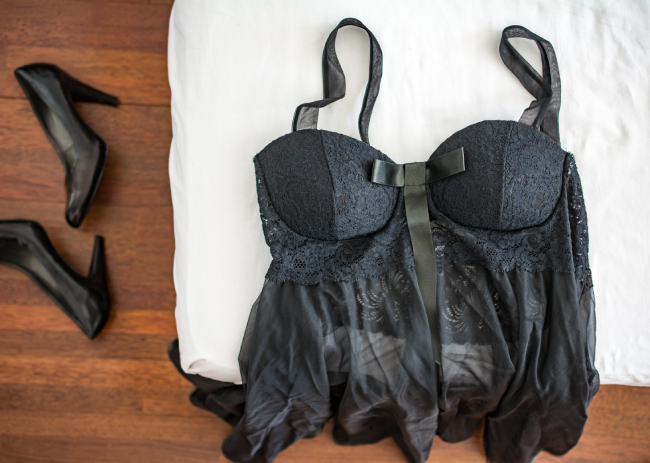 Babydoll dress for honeymoon has to be comforting, soft, and most importantly pretty. There are many options you can choose from. Here's a list of the best babydoll dresses: 
Baby Doll Wedding Dress:

If you're still in the wedding mood, then go for this dress. Get a white coloured babydoll dress with a pleated lace design on it. You can opt for a chiffon dress material for this type of dress. 
Babydoll Mini Dress:

A babydoll mini dress would be perfect for a night out. On your honeymoon, you'd go to some cafés or clubs at night. You can pick this type of dress for such an outing. Opt for a floral dress or one with patterns on it. For accessories, you can take a small purse and bracelet. Lastly, pair the dress with shiny new boots. 
Silk Baby Doll Dress:

If you like silk dresses, then why say no to a silk babydoll dress? A silk babydoll dress would look classy and sophisticated on you. Opt for a dark-coloured dress and wear a leather jacket with it. Complete the look with any accessories you like. We suggest you wear a thin wristwatch.   
Velvet Babydoll Dress:

Another soft and easygoing fabric that you can go for is velvet. A velvet babydoll dress would look attractive on you. You can opt for a modern look or for a Victorian babydoll dress. Get a dress that has lace on it and has puffy sleeves. 
Short Satin Dress:

A satin babydoll dress would be the best for ending the day. You can sleep wearing a satin babydoll dress. The satin fabric is soft, so you'll sleep comfortably in it. Opt for a dress that has a v-neckline and lace borders on it. 
Best Sites and Prices 
There are many online websites from where you can buy a babydoll dress for honeymoon. 
Amazon: If you're looking for a babydoll dress for honeymoon, then Amazon should be your first choice. Amazon has a great collection of babydoll dresses. They fall under a good price range too. You can find babydoll dresses on Amazon in different fabrics. Most of them fall under a price range of $17 to $25.
Nordstrom: Nordstrom is another great website to buy babydoll dresses. It has a collection of babydoll dresses in different colours, designs, and fabric types. You can find a babydoll dress on Nordstrom for the occasion of a honeymoon or a party. On this website, the dresses fall under a price range of $30 to $50. 
Etsy: Etsy is an online platform that's known for selling vintage and handmade items. However, you can find many types of babydoll dresses on Etsy. On this website, you can find babydoll dresses for under $50 to over $200. They come in many colours including white, black, red, pink, and purple. 
FAQs
What Is A Babydoll Dress Used For?
People wear babydoll dresses for various reasons. Babydoll gives women a feminine look. These dresses are also extremely cute and easy to wear. One doesn't require many other clothing materials with a babydoll dress. People wear babydoll dresses for honeymoon, for a casual outing, or for a picnic date. 
Can You Sleep In A Babydoll Dress?
Babydoll dresses are short gowns, they often look like lingerie. They are made from different kinds of fabrics. Usually, babydoll dresses are made of satin, lace, silk, or cotton. These dresses are extremely comfortable to wear. They are loose on the body. It's comfortable to sleep wearing a babydoll dress. 
What's Another Name For Babydoll Dress?
Babydoll dress resembles lingerie. Thus, they are typically categorized as lingerie. It is sometimes spelt as "baby doll" or "baby-doll". The dress was popularized decades ago. During the 1930s and 1940s, women wore short bed jackets with lace on them. Soon, this outfit came to be known as a babydoll dress. In the early days, the babydoll dress was like a nightgown. Today, babydoll dresses are worn by many women on different occasions. These days, apart from wearing them as sleepwear, women wear babydolls as daily wear too. 
How Should A Babydoll Dress Fit?
A babydoll dress should have an easy fit on your body. The dress should be comfortable on your shoulder and loosens down your bustline. The dress is short, so it also shows your legs. These dresses don't hug your body, so they're great for summer. Although, in the winter, you can wear a jacket over it. 
Why Is It Called Babydoll?
This nightgown dress was created by Sylvia Pedlar around the time of World War II. The name for babydoll dress was popularized because of the 1956 movie named Baby Doll. After the release of the movie, the dress was styled in many ways. People wore babydoll dresses with pyjamas or some pants. 
In Conclusion
A honeymoon is a time to relax and feel free. The dresses you wear on your honeymoon have to make you feel as such. Therefore, a babydoll dress is a good outfit choice for your honeymoon. 
There are many colours and designs that you can go for. Moreover, you can style the dress in many ways. Pair the dress with some minimal accessories and wear heels with it. This would make for an ideal outfit. 
Which outfits would you wear on your honeymoon? How would you style a babydoll dress? Tell us in the comments section below!