A sustainable fashion blog is a type of blog that spreads awareness to people about the eco-conscious way of buying and wearing clothes. Sustainable fashion bloggers create content that educates people on how they can buy or even borrow clothes and have a greener wardrobe. 
Sustainable fashion is important for several reasons. There's less environmental waste, these industries have a proper working environment, and this type of fashion doesn't have a big carbon footprint.  
This article discusses how to start a sustainable fashion blog, how to run it successfully and profit from it. 
What is a Sustainable Fashion Blog? 
Sustainable fashion essentially means accessing/manufacturing clothes in an eco-friendly way. This type of fashion isn't limited to making new products. It also includes shopping for secondhanded clothing materials through friends or family.
The aim of sustainable fashion is to build a fashion industry that is carbon-neutral and one that promotes animal welfare, ecological integrity, and social justice. 
A sustainable fashion blog is the type of blog that lets people know everything about sustainable fashion. These blogs give an insight to the audience about the what, where, and why of this fashion industry.
Sustainable fashion blogs have their unique topics and niches. Some talk about vegan and cruelty-free fashion, some promote recycling or upcycling. There are many blogs that put attention to ethical fashion too. 
These blogs give people tips on how to buy the right kind of sustainable clothing material. There are many sustainable fashion blogs on the internet with different stories and visions in mind. But, the main aim of all these blogs is to spread awareness among people.
A sustainable fashion blog discusses the problems the world is facing because of the non-eco-friendly fashion industry giants. It seems like a trend to many, but such blogs want to tell people that they need to shift their perspectives. These blogs wish to enlighten people on sustainable practices.  
Sustainable fashion bloggers encourage their audiences to buy sustainable clothing materials and sustainable accessories. A lot of bigger fashion brands like Zara and H&M popularize fast fashion products. These bloggers encourage people to do the opposite, i.e., to indulge in slow fashion. 
How to Start a Sustainable Fashion Blog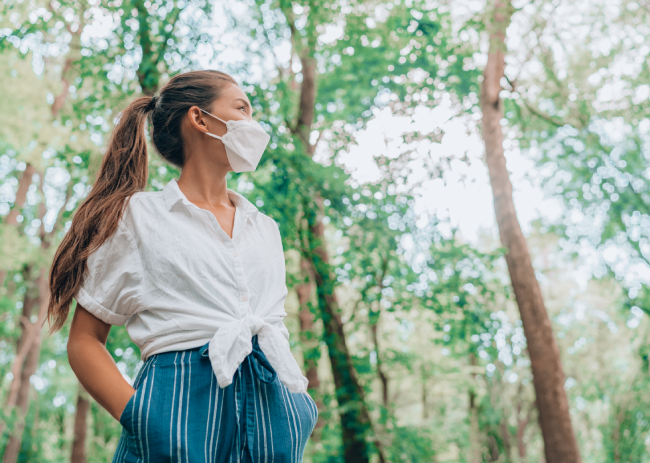 Whether you're starting a sustainable fashion blog for fun or for earning an income, you should learn some basics about it. Here's how to start a sustainable fashion blog:
Pick Your Topic:

What will be the focus of your blog? Do you want to talk about ethical fashion, thrifting, swapping, or borrowing? If you can manage, then your blog can have more than 2 topics. But, safe advice would be to take it slow. Explore one topic, then gradually move up the ladder.  
Select Domain Name:

The domain name for your blog doesn't have to be complex, but it should be a little descriptive. You can show your creativity here, select something that is catchy and easy to remember. To show what you stand for, use words like green, sustainable, recycle, etc. 
Choose a Blogging Platform:

A blogging platform or a content management system is how you'll write the blogs, add photos and videos to them. The most famous blogging platform that bloggers prefer is WordPress.  
Buy Web Hosting Service:

It's through a web hosting service that you'll put your blog on the internet. There are many green web hosting services that you can pick from, including Dream Host, iPage, and Green Geeks. These services have annual subscription plans that cost less than

$10

monthly. 
Select Website Theme:

A beautiful theme attracts more readers. But you should select a theme that doesn't slow down your website. Add a theme that has good ratings and reviews and test it to see how it looks on multiple devices. 
Launch The Website:

Make a note of all things that weren't up to the mark, fix all technical issues, change the theme if you want, recheck everything. Once you have done all of this, it is time to launch your website. 
Tips and Best Practices 
Launching the website is really just the first step. You need some relevant skills to run your sustainable fashion blog successfully. Here are a few tips you'll need along the way: 
Research:

Every blog piece you write and every content that you post needs to be researched thoroughly. You should know your sources, you should know that those sources can be trusted. Researching is how you'll know more. You might find many things that you didn't know earlier about your blog topic or a content topic.  
Inform People:

As a sustainable fashion blogger, it's your duty to inform people and help them when they need it. Many people still don't know about sustainable fashion and how it works. Sustainable fashion is an umbrella term that includes many other ecological clothing practices.  
Be Updated:

One of the key aspects of sustainable fashion is that it promotes longevity. But that doesn't mean things don't change in this industry. There are ups and downs in this industry like any other one. You should be updated on these changes. You should also have the ability to adapt yourself to these changes. Moreover, as mentioned above, you should keep your audience informed. They should know how these changes can benefit them. 
Suggest Alternatives:

People don't know the difference between other types of fashion and sustainable fashion. They don't know what brands they should follow, does their local region have any sustainable fashion brands, what online stores offer sustainable clothes, etc. 
Be Authentic:

Your blog is a place where you talk about your opinions and feelings. The blog follows the direction that you want it to follow. Surely, you can make changes that have been proposed by your readers. You should always be honest with them. 
FAQs
Which Are The Best Sustainable Fashion Blogs of India?
Here are a few sustainable fashion blogs in India:
Tanvi M Sidhu:

This fashion blogger advises people on how to wear more sustainable clothing. Tanvi does things a little differently, she gives clothing inspiration style that it Indo-Bohemian
Kakali Biswas:

Kakali loves sustainable and ethnic fashion. Through her Instagram, she shows her support by promoting local businesses. 
Sharmistha Guha Chowdhury:

Sharmistha is a blogger who belongs to Kolkata. For her, class and comfort go together. She likes and supports the idea of the wearability of fashion more than experimenting with it. She inspires people to wear local handwoven clothes.  
How To Increase Profitability of a Sustainable Fashion Blog? 
One way you can increase the profitability of your blog is by collaborating with brands. Being on the same page with brands may be difficult. But once you understand their needs and put forward your opinions, you can easily make a deal with them. By collaborating with a brand, you'll be able to tell your story to their audiences as well. 
Another way is by collaborating with Instagram influencers, especially fashion influencers. Influencers and Instagram content creators have a massive following. You can interview some of them and you can ask them to write a guest blog on your website. 
How To Start A Sustainable Fashion Blog in India?
To start a sustainable fashion blog in India, first, you need to select the name for the blog and buy a domain for it. After that, you can choose a blogging platform like WordPress or Squarespace. Having done all of these tasks, now you need to decide on a unique template for your blog. This will give you your start. 
Once everything looks good, you should add your first post to your blog. Make sure that the first post has more than 500 words. When you start uploading regularly, you'll notice that your blog is gaining attention. Now, you can create a newsletter to stay connected with your readers. 
Which Are The Best Sustainable Fashion Bloggers on Instagram?
These are the best sustainable fashion bloggers on Instagram. 
@consciousnchic – Kathleen Elie is an Instagram influencer who talks about women's issues and labour trafficking. For her, ethical fashion means giving recognition to the fact that there are people who have made the clothes that people wear. 
@aditimayer – Aditi Mayer has over 60,000 followers on Instagram. She explores different types of sustainable clothing. The influencer has interviewed journalists and people from the fashion industry to discuss issues related to climate and the environment. 
@michelleforgood – Michelle Chavez is a conscious lifestyle influencer. Her Instagram profile showcases amazing styles from products that neither hurt the environment nor people. She believes that you don't have to hurt the environment to be fashionable. 
Which Are the Best Sustainable Fashion Brands?
There are many new sustainable fashion brands that are up and coming these days. Many existing brands are also changing the way they work. They are shifting their focus to create products in an environment-friendly manner. 
The list of the best sustainable fashion brands includes brands like:
CAALO: Founded by Chelsea Claridge, a designer from New York. The brand partners with sustainable factories to create non-gendered clothing apparel.
Asket: This brand believes in manufacturing clothes that last forever.
Brøgger: This is a Danish sustainable fashion brand. The label believes that for longevity, people need to have greener wardrobes.
Nynne: It's a brand that thinks buying less is buying better. All their operations and implementations are focused on sustainability.
Omens: This brand wants to make sustainable fashion accessible to all. Their clothing production tries to meet the highest environmental standards. 
In Conclusion
A sustainable fashion blog is a type of blog that mainly talks about fashion that is green and environment friendly. People are realizing the negative impact that the fashion industry has on the environment. They want a change that protects both people and the world. 
To start your blog, you need to know what you want to discuss and talk about. Your blog can start from a topic that you know about, and slowly you can add more topics. For running such a blog, you have to be connected with your readers, you have to stay updated and educate others about the changes in this realm. 
Nowadays, many brands are becoming sustainable and spreading positive messages to help save the environment. 
Infographic Provided by UCA Lingerie