Yes, applying nail paint is good, therapeutic even. Why stop there, though? Nail art refers to the activity of decorating nails. Nails can be decorated with different colour combinations, glitter, acrylic paint, nail stickers, and many more beautiful objects. But nail art is not as easy, as applying nail paint. You need the best nail art brushes to have a perfect finish on your nails. 
Choosing the art is one step, that doesn't mean you have reached halfway there. If you have picked out the colours and everything else. The next step would be to pick the right brushes. Because old and faulty brushes can cause your nails more harm than good. 
I made the mistake of thinking any brush would do the trick. In the end, my nails ended up looking terrible, to say the least. Since then, I decided on having brushes that are easy to hold and have a tight grip. After that incident, I also paid attention to the brush size. Nail art is tricky and it takes some time, if not a lot. I opted for medium-sized brushes that didn't slip out of my hand before I even began with the art. 
If you have the right brushes in your hand, it'll take you seconds to make the perfect design. Nail art isn't something that is limited to one gender, as many people would want you to believe. The early 70s look of David Bowie and Harry Styles's look at the Met Gala is proof enough that men, just like women, love nail paint and nail art.   
In this article, we have mentioned the best nail art brushes for amateurs and professionals. Get the right brushes, so your nail art looks like art, and nothing less than that. 
What Are Nail Art Brushes? 
Nail art is a form of creative hobby that people do on their fingernails or toenails. After people get a manicure or pedicure, they do nail art. After these treatments, people get nail art, so the nails look dollish. People usually do nail art before going to a party, luncheon, or any other social gathering. 
A nail art brush is a tool that you use to have different types of nail art. These brushes are of different kinds and have specific functions. The whole art form can be changed with a different brush. The best nail art brushes are made from synthetic fibres or natural animal hair. 
If you're a beginner, then you'll feel lost looking at so many brushes of different sizes, colours, and names. Therefore, you should know what categories these brushes fall under. 
Here's how you'll find the best nail art brushes and tools:
Detail Brush:

A detail brush is also known as a liner brush. As the name suggests, a detail brush helps you add details to your nail art design. Because this tool helps with the details, its hair is very thin. Once it gets wet, it becomes even thinner. 
Flat Angled Brush:

This brush is a useful tool if you want to add flowers to your nails. The angular brush makes blooming flower petals. 
Dotting Tool:

Dotting tool helps in making dots of different sizes on your nails. Dots are simple, and many people love them as a part of their nail art design. 
Striping Brush:

The hair of the striping brush is also thin. This type of brush is helpful in making lines and other geometrical figures. 
Fan Brush:

A fan brush is useful to get a gradient texture on your nails. They also help in applying glitter or tinsels. 
The Best Nail Art Brushes for Beginners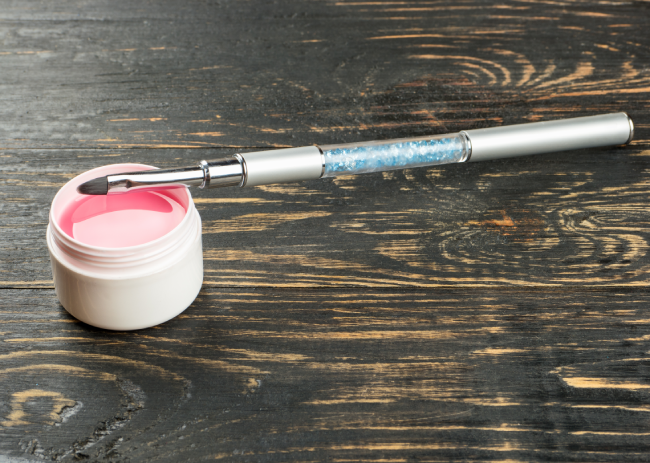 Nail art requires patience and a firm hand. As a newbie, you will face difficulties even in the simplest form of the nail art design. If you don't know about the helpful tools, you can ruin your nail art. A wrong stroke or a wrong brush type will change the whole appeal of your fingernails or toenails. This new hobby can be painful at the beginning, but once you know how to find the best nail art brushes, you'll become a professional in no time. 
Nail Art Brushes by Teenitor:

This brush set is the first choice for many beginners. They're very durable and have a good price range. The set has 15 brushes which include, detail brushes, flat brushes, fan brushes, and dotting tools. The kit also contains rhinestones and metallic striping tape. 
Twinkled T Kolinsky Professional Nail Cleaning Brush:

The twinkled kolinsky cleaning brush comes in different sizes. The brush is essentially useful for cleaning your cuticles of the nail polish remains. These brushes have a long life given that they're kept carefully. 
Fulinjoy Nail Art Brush Set:

This is the safest choice for those people who feel tired after painting their nails. The grip of Fulinjoy brushes is strong enough that your hands won't cramp while using them. They come in a set of three double-ended brushes. 
Tocoles Nail Art Brush Set:

Tocoles brush set is easily the safest and best choice. They are priced moderately and look beautiful too. A beautiful set like this will obviously give you the aesthetic nail art design. 
Olive & June Nail Art Brush Set:

Olive and June brush sets are simple and enough. The set contains a dotter and a thin brush. If you want a minimalist design on your nails, this brush set is the one for you. 
The Best Nail Art Brushes for Professionals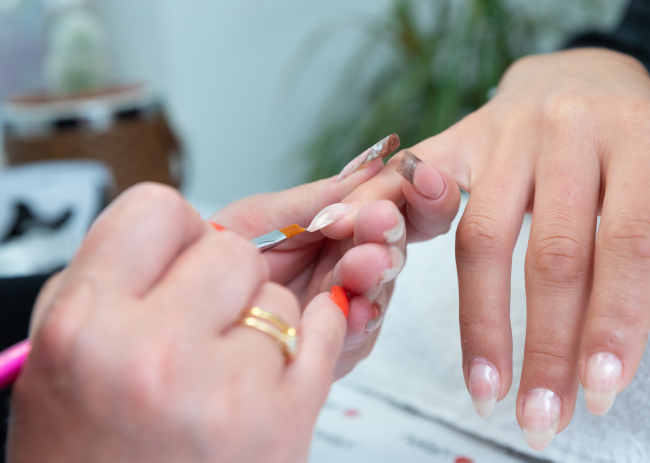 Professionals have to work with the best nail art brushes. They can't compromise with the quality of brushes. Every brush they use should have the right fibres and body. They should also be comfortable on their hands. 
Professional Kolinsky Acrylic Nail Brushes by Pana:

Nail art designers who like to work with UV gel and acrylic brushes choose the Pana Kolinsky brushes. The hair of these brushes is made from weasel fur. 
Anself Nail Art Liner Brush:

The Anself brushes have super thin hair. These brushes are useful to add fine details to your nail art design. This set is usually paired with UV gel and acrylic nail polish. 
Specialized Gradient Brushes:

These are the best nail art brushes to add flowers to your nail design. People who have been doing nail art design for a long time will absolutely love these brushes. The gradient of these brushes gives a shadowy effect to the nails. 
Auocattail Nail Art Brush Set:

This nail art brush set contains 15 brushes. The set also has a colour mixing palette that comes with it. You can mix colours, make flowers, add dots to your nail art design with this brush set. 
Torokom Nail Art Brush Kit:

The Torokom brush set is a must-have for all professionals. The set has brushes, dotting tools, and a nail art dust remover. The set itself is gorgeous and there's no doubt that these brushes will make your nails look pretty too. 
Artdone Nail Art Brush Kit:

This nail art brush set includes 31 brushes and tools. These brushes are useful for all your needs. They help in making lines, flowers, strokes, and dots. The brushes are useful for more than just nails, you can also use them for face painting. 
The Best Nail Art Brushes of All Times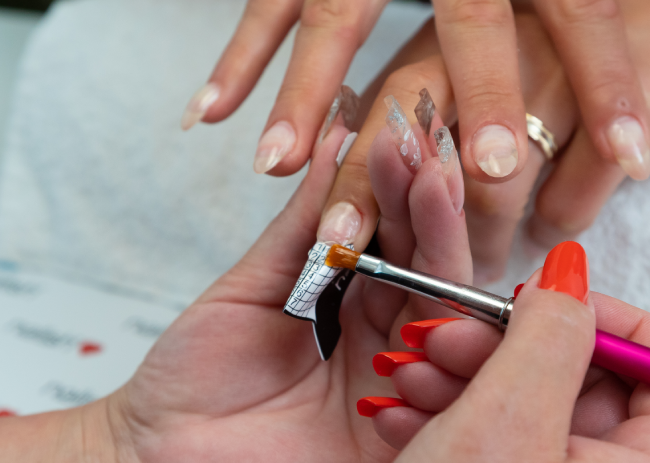 With new technologies and new designs, the old products get replaced easily. But some of these products are so perfect in their quality and makeup that people always come back to them. Here's a list of the best nail art brushes that people pick every time: 
Beetles Nail Art Brushes Set:

The beetles brush set contains brushes that are easy to handle and they are comfortable to use. There are 6 different tools in this set. The fibre material of brushes is glued strongly, so you don't have to worry about it coming off on your nails. 
Modelones Nail Art Brushes Set:

These brushes are suitable for anyone to use. The brush set comes with 6 different nail art tools, including double-ended dotting tools and gel brushes. Modelones brush set is right for you if you want a French manicure. 
Saviland Nail Art Brush Set:

Saviland brushes have a fine quality. This set has 6 brush pens and they are all double-ended. They have an alloy design on their body. The hair of these brushes is made of nylon material. 
AIBEE Nail Art Design Tools:

AIBEE is a nail art design set that has 15 brushes and tools in it. The brushes and dotting pens have different designs and sizes. Many professional nail art designers use this set. 
100% Kolinsky Acrylic Nail Brush:

These Kolinsky acrylic nail brushes are made of alloy material, they don't rust or deform easily. The set has 10 brushing tools. If you want to make a DIY nail art design, these brushes make for an easy choice. 
FULINJOY Nail Art Liner Brushes:

Fulinjoy liner brushes come in a set of 3 liner brushes. They have a metal body and they are highly durable. They are light to hold and you'll feel comfortable to use. 
FAQs
What Nail Art Brushes Are Best? 
The best nail brushes are those that are strong and firm. Nail art can take time depending upon the nail art design. If it's a simple design, then you can have simple brushes. But if the designs are somewhat complex, then you'll need to get the finest quality brushes. 
You can know about a brush's quality by asking the salesperson or looking at the reviews online. The biggest concern that people face when they buy their nail art brushes is that the fibres get stuck on their nails. Get those brushes that have strongly glued fibre on them.
Many of the brushes have a metal design on them. Sometimes people get brushes with low-quality or fake metal on them. This kind of metal comes off easily and the brush becomes useless after that. Therefore, pick nail art brushes that have a durable body. 
How Do I Choose Nail Art Brushes? 
The artistic beauty of nail arts is hard to do. With enough practice, you can excel at it. Not every brush will be able to give you the design you want. 
There are different types of brushes that have different functions. These include A) Detail Brushes – useful to add small details, lines, alphabets, numbers, characters, and logos. B) Striper Brush – to make geometrical figures, stripes, plaid, and animal prints. C) Square Brush – for dry brushing, colour blending, and floral designs. D) Round Brush – they are useful for covering a large part of the nail with colours and making flower petals. E) Pointed Brush – these are used for making wide stripes on nails and making flower petals. F) Dotting Tool – useful for all dotted designs you need on your nail art. 
Specific brushes are needed to have specific designs. A few of these brushes are enough to have adorable fingernails and toenails. 
What Is The Most Popular Acrylic Nail Brush?
The best nail art brushes for acrylic nail art are the ones that are made from kolinsky hair fibre. People who are looking for a synthetic option can pick out brushes with nylon hair fibre. 
There are a few acrylic nail brushes that are favoured by many people. These include a) iBealous brush, which is made of 100% kolinsky hair. b) Makartt acrylic nail brush, that has soft natural bristles of nylon fibre. c) AROIC acrylic nail brush, which is a set that includes 28 brushes and tools. 
All these brushes are super easy to use. Even beginners can use these nail art brushes without breaking a sweat. 
Can Paint Brushes Be Used For Nail Art?
Paintbrushes can be used for nail art. But before you use paintbrushes, you have to make sure that they are cleaned properly. But do not use paintbrushes to apply acrylic nail paint. Acrylic nail paint should always be applied with natural brushes. 
Only when you have no choice, you should use paintbrushes to apply acrylic nail paint. Once you are done applying the nail paint, clean the brush thoroughly with oil and turpentine. 
Apart from paintbrushes, you can also use your old eyeliner as a nail art tool. The thin eyeliner can be used for making dots or thin lines on your nails. 
What Is a Good Nail Brush for Beginners?
Beginners should use simple nail art brushes. Using simple brushes won't give them pain and cramps in their hands. People who are just starting out with nail art design need to have the patience to do the nail art. They will achieve perfection on their first try. But the best nail art brushes will at least promise them near pretty nails. 
Beginners can get nail art brushes by Teenitor, Fulinjoy, Tocoles, Olive and June, or Twinkled T Kolinsky brushes. Using these brushes is not a hefty task. A brush's body is similar to that of a pen. So, using these brushes will come naturally to you. 
When you are new to nail art, knowing about making different designs is not enough. You should also know how to keep the brushes carefully. You should always clean your brushes with warm water. Many brush kits come with cleaning instructions on them, you should also read those. 
The Takeaway 
Nail art is extremely trendy these days. As you scroll through your Instagram, Pinterest, or YouTube, you'll find many people having nail art on their nails. Not only celebrities but even your close friends are doing it these days. 
Nail art can only be perfected with the best nail art brushes. Any ordinary brush will not give you the design you want. Nail art brushes come in sets with other nail art tools. These tools and brushes can create many types of designs you want on your fingernails or toenails. 
As a new person at nail art, you should use the brushes that light in your hands. The more you do nail art designs, the faster you'll get at doing nail art on your nails. Professional nail art designers have had years-long of practice in this field. But even professional artists can go through immense pain if the brushes they choose aren't right. 
The different types of brushes give you different designs. The designs are not limited to flowers and glitter. With a stripper brush, you can add geometrical figures to your nails. 
You can also write alphabets and numbers on your nails through nail art. With dotting tools, you can have a pretty polka dot design on your nails. 
With the right brush set, you can get ready for any event or party you have planned for the day.