We all desire plump and soft lips. But not everyone's blessed with alluring lips, hence we have curated a complete guide on getting the best lip filler to get the lips of your dreams!
Lip fillers help enhance the size of the lips. As we age, our lips start to lose plumpness due to a lack of collagen and fat.
This leads to a saggy face and thin lips. And if getting appealing lips is your concern, perhaps you need to get a treatment to achieve fullness.
If you have considered getting a lip filler, make sure you read it till the end to imbibe all the valuable insights on choosing the best lip filler.
This article covers everything from scratch. So make sure you give it a read!
What is a Lip Filler?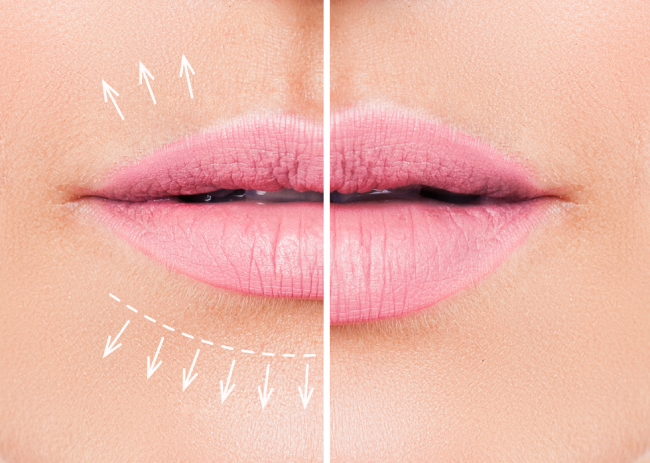 The Lip Filler procedure is done to get plump and fuller lips and to enhance the facial appeal.
Our body tends to lose collagen and fat with an increase in age, and lip fillers replace them by using fillers such as fat and hyaluronic acid.
These fillers are injected to reshape the upper lip based on the person's facial features. It plums up the lip, making it look more pleasing.
It's generally recommended to get it done by a certified cosmetologist.
If you get a temporary filler, then you may have to redo it every nine months, or else you can get a semi-permanent lip filler that lasts two years.
Which are The Best Lip Fillers?
There are several kinds of dermal fillers that can be injected. 
However, if you want to enhance the overall facial appearance and plump up the lips, then Restylane and Juvederm are the best lip fillers. 
These dermal lip fillers are made of Hyaluronic acid.
With ageing, your skin develops wrinkles and fine lines. Hyaluronic acid has the property to reduce wrinkles and plump up the skin.
With an increase in hyaluronic acid, your lips get plumper and skin fills in wrinkles.
#1. Restylane
Restylane Silk is the dermal filler that is used in the lip area. It comes under the Restylane dermal family.
It's specifically used to get plumper, soft and silkier lips. Also, it adds a natural volume to your lips.
It was the first lip filler to be approved by the FDA and can be used for lip augmentation as well as filling up the lines.
The Restylane injection procedure generally takes sixty minutes. Since it primarily focuses on the lip area, it doesn't require much time.
The effects can be observed after a few days. To sustain the voluminous lips, you may need follow-up sessions.
The best lip fillers generally last for ten months and then start wearing off.
Even though these lip fillers have been approved by the FDA, the procedure isn't right for everyone.
Individual risk factors are subjective and can vary. It's highly recommended to consult before going through with the treatment.
It's only for adults who are 21 years of age or older. 
Moreover, if you have a history of allergies to lidocaine or hyaluronic acid, then this lip treatment may not be right for you.
Or if you have any skin inflammatory diseases or bleeding, then you should give it a second thought.
#2. Juvederm Volbella XC or Ultra
It comes in two forms. Juvederm Volbella XC is specifically designed to add subtle volume to the lips and is used to smoothen up vertical lips.
It has won the 2020 NewBeauty award for the best filler to give plumper lips.
Juvederm Ultra is specifically designed for lip augmentation.
Depending on your requirements, you can go with either of them.
Common symptoms such as bruises and swelling are generally observed after getting the lip filler for two or three days. 
The duration of the symptoms depends on the place where you're getting the lip injections.
If you're solely treating the lip lines, then the symptoms are going to last for seven days.
If you're doing it to get plumper lips, then the side effects can last up to fifteen days.
The lip injection procedure doesn't require much time, and unlike Restylane, the effects show up instantly.
You can see instant changes that are going to last for a year.
Juvederm is also for adults who are 21 or older.
However, it's recommended to ask your provider and beware if you have any allergies to lidocaine or hyaluronic acid.
The Cost of The Best Lip Fillers
The best lip fillers range from $650-$700 per 1-millilitre syringe.
When it comes to computing the cost of getting the fillers, it's pretty subjective.
Factors such as geographical location, facility costs, and provider's experience are considered for determining the cost.
Generally, lip treatment falls under aesthetic or cosmetic treatments, so there's no option for insurance.
However, some providers come up with financing plans to balance off the cost.
It depends on the area where you reside and the provider.
Besides the initial costs, maintenance costs are also considered. To maintain it and make it last longer it's essential to have a talk with the provider.
Mostly, they recommend repeating the treatment once or twice a year, which comes down to one or two vials.
If the vial remains, then the same can be used in the next session if preserved properly.
Let's break down the best lip fillers costs:
#1. Restylane
Restylane silk ranges between $300 and $650 per injection. It depends on the geographical location. 
If you live in the suburbs, then it may not be expensive, whereas if you live in a high cost of living area, the treatment may get a little pricey.
#2.
Juvederm
Juvederm treatment is slightly more expensive than Restylane.
If your provider resides in California, the price range can get as high as $600-$900 per injection.
Juvederm tends to last longer, which makes it a little on the high end.
As it shows high longevity, its cost becomes worth it.
Side Effects of The Best Lip Fillers
Generally, these lip fillers are less invasive. However, they are not risk-free and can show certain side effects.
It's essential to take care to avoid scarring or irritation.
Restylane Silk can show some minor symptoms such as swelling, tenderness, bruising, and redness.
Serious side effects can also be seen, such as necrosis, infection, and hyperpigmentation. It's quite rare.
If you have a bleeding disorder, an inflammatory skin condition, or are addicted to smoking, an increase in risk factors can be observed.
In Juvederm, side effects such as redness and swelling can also be observed. Some people may experience numbness and pain too.
Dry skin can also be caused by Juvederm Volbella XC.
Some serious side effects can also be seen such as necrosis, hyperpigmentation, and scars.
If you experience any of the side effects, it's recommended to avoid strenuous activities, scorching heat, and alcohol.
It should be avoided for twenty-four hours following the treatment.
If you reside in an extremely cold place, it's recommended to avoid it until you get rid of swelling or redness.
Generally, minor side effects don't last for more than two weeks if you're getting injected by a good provider.
7 Things to Know Before Getting Lip Fillers
Here are a few things to keep in mind before you go ahead with the treatment.
#1. Prep Your Mind
It's very important to contemplate getting a lip fuller and think long and hard about how you want your lips to look.
So how plump do you want your lips to be so that it doesn't go overboard? It's much better to have a little than too much.
You wouldn't want your lips to get overfilled, so it's essential to think carefully about what you want.
Don't consume aspirin, fish oil, multivitamins, vitamin E, or Aleve for a week before getting the fillers.
It can act as a blood thinner, which can cause bruising.
#2. Don't Carry a Photo
It's recommended that you do not carry a photo with you to your appointment. Some doctors may or may not like it.
Everyone's anatomy and facial structure differ, so you can easily explain to the doctor what you're looking for.
Choose a better explanation and then leave it to the doctor to configure.
#3. Each Filler Serves a Different Purpose
There were some days when women had collagen dermal fillers.
Nowadays, you can get tonnes of dermal fillers based on hyaluronic acid. Hyaluronic acid is a great substance to make your lips plumper.
Also, it's resistant to bumps. It can be difficult to choose which filler to use.
It's best to explain your need and expectations for lip filler to the doctor and then leave it to him.
#4. Don't Get Carried Away by Instagram
We're all obsessed with beauty influencers, but have no idea how much money it takes to get the alluring look.
Generally, to get the fillers, two or three syringes are required, which costs around $400 to $1000, and it also depends on the location.
It's quite expensive. Hence, start saving some bucks!
#5. Filler Doesn't Last Forever
Unfortunately, fillers don't last longer than a year. Nothing can be done to prolong the filler.
If you're satisfied with the filler, then get a couple of pics before it fades out.
#6. Aftercare is Minimal
You might have come across certain fear-mongering articles talking about post injections.
It's nothing to worry about after getting the fillers. Just stay away from aspirin.
Doctors put ice packs after applying fillers to reduce soreness, but if you continue feeling so, keep applying the ice pack until it goes away.
You'll observe that the swelling goes away within two days.
#7. Bruising Differs for Everyone
Some people get light bruising on the top of their lips, while some get serious side effects.
Bruising depends on the person, as everyone's body differs, hence it becomes hard to anticipate the level of bruising on your lips.
Lip Augmentation vs Lip Filler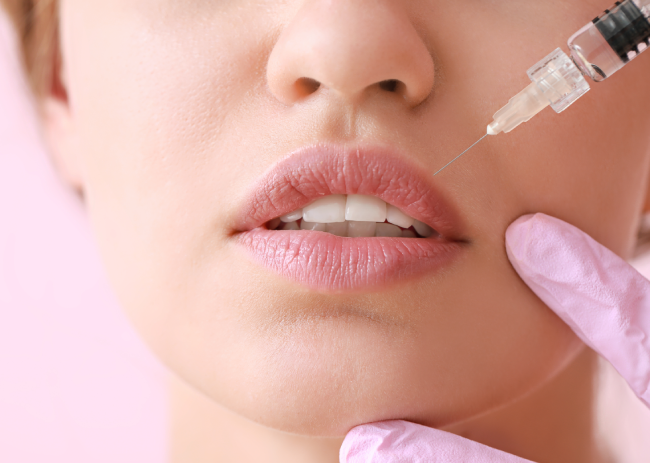 Lip augmentation is an aesthetic procedure that is specifically designed to enhance the size of the lips.
If you have thin lips and want luscious or plump lips, or if with age you have started observing the thinning effect, lip augmentation works the best.
It's of two types: lip implants and lip injections or fillers.
Just like breast implants, lip implants are surgical procedures where a silicon strip is inserted into your lips. 
Different sizes of silicon strips are available and can be inserted based on the desired size. 
The surgical procedure is pretty safe and quick.
A lip implant lasts for a longer time and hence is a great choice for people who don't want to show up for more surgery.
If you want plumper lips indefinitely, then it's a perfect option.
Lip injection or lip filler is a procedure where an injection made of collagen or other filler is inserted into your lips.
Nowadays, people go with hyaluronic acid filler to get silkier, smooth and plump lips.
Lip fillers are less invasive and inexpensive. 
However, they don't come with long-lasting guarantees and can require further surgeries. 
If you're getting hyaluronic acid filler, then the probability is that it's going to last for six months to one year.
If you're looking for minimally invasive surgery and want a semi-permanent form of procedure to enhance the size of lips, then lip filler is the best bet.
It's cost-effective and can last up to a year.
9 Aftercare Tips for Lip Filler
Generally, the side effects of the best lip fillers are minor, and you might get swelling, bruising, or tenderness.
After getting the lip filler, aftercare is quite important especially if you're unsure about the procedure.
Applying an ice pack to the affected area can help to relieve pain and reduce swelling.
Try to avoid any strenuous activity for at least 48 hours after getting any dermal fillers.
Strenuous activity will elevate your heart rate and blood pressure, which can make swelling worse.
Stay hydrated. Drinking gallons of water will heal the pain.
Consume hydrating fruits and vegetables as part of your daily diet.
Avoid consuming sodium as it may aggravate the condition.
Consult your doctor for the painkillers. Ask him about the painkillers to take after the treatment.
Make sure you don't sleep on your face. Try to keep your head elevated on the pillow while sleeping to ease the pain.
Make sure you don't wear makeup on your lips for up to 48 hours.
3 Things to Avoid
You may be getting the best lip filler. But, here are a few things to avoid after going ahead with the procedure:
Avoid Smoking.

Don't smoke after getting lip filler as it can increase the risk of catching an infection. Also, avoid hanging out with others who smoke.

Avoid Alcohol.

Avoid drinking alcohol for up to 24 hours after getting the treatment, as alcohol can cause blood thinning, making it worse. It can increase the likelihood of inflammation and bruising. On the safer side, stop consuming alcohol a few days before the appointment.

Don't Fly.

It's recommended to avoid catching a flight for a week after getting the treatment. Air pressure in planes can make the swelling worse, hence it's a good idea to avoid flying.
When to See a Doctor
It's normal to experience minor side effects such as redness and swelling even if you have gone with the best lip filler. But if you experience any of the following complications, then it's best to see a doctor.
Intense Swelling or Bruising.

If you experience bruising or swelling for more than a week, you should consult your doctor. Intense bruising or swelling can worsen the condition, and it may happen as allergies to hyaluronic acid are possible.

Vascular Occlusion.

It happens when any dermal filler is injected around an artery. It stops the blood flow, which can make the surrounding tissue die. If you experience it, you'll start to notice a change in your skin colour, which can look like blotches. Also, you'll experience intense pain. It's important to keep in mind that, due to the presence of lidocaine in the filler, the pain may become less noticeable.

Cold Sores.

Before getting the filler, your doctor will ask you if you have cold sores or HSV-1, i.e. Herpes Simplex Virus. Dermal fillers can cause an outbreak and can make the pain much worse. If you have had any history of herpes, it's best to have a talk with a doctor before getting the treatment.
FAQs:
Which lip filler lasts the longest?
Juvederm is a filler that can last up to a year. This filler offers more natural-looking, long-lasting results with fewer side effects and no downtime.
What is the best lip filler technique?
HA is considered safe and effective amongst all the different dermal fillers. Aftercare tips include:
Lightly massage the treated area after cleansing the area with saline 0.9%. 
Reduce the risk of bruising, Edema by applying ice packs for a few minutes. This also helps relieve pain.
Avoid hot temperatures, excessive exercise, and hot beverages for the next 48 hours. 
What lip filler gives you the biggest lips?
Juvederm Volbella XC has won the 2020 Newbeauty award. Undoubtedly, it's the best filler to give you plumper and fuller lips. They add subtle volume to the lips. Also, it smoothes the perioral lines around the lips, making them look plumper.
What kind of lip fillers do the Kardashians use?
Kim Kardashian uses Juvederm for her lips. It's made of hyaluronic acid, which has a good tendency to absorb and retain water and adds a natural touch to the lips, making them look plumper and voluminous.
What is the newest lip filler?
Restylane Kysse is the newest dermal lip filler specifically designed for lips. It has been approved by the FDA. It gives a natural look to the lips and shows long-lasting results.
The Takeaway
Lip Filler is a great choice to get a plump pout, especially when you're new to this treatment.
It's less invasive and can be done with minimal downtime.
However, it's highly recommended to get it done by a board-certified dermatologist or a surgeon.
If you're looking forward to getting a lip filler for luscious lips, do your personal research.
Be aware of all the pros and cons and take some time to contemplate them.
The procedure is quick, easy, and effective. However, certain side effects can be experienced.
If you're comfortable avoiding smoking, drinking, and flying, then getting a lip filler is a perfect choice.
Hyaluronic acid is a widely used dermal filler and is great for reducing wrinkles and getting alluring lips.
Which according to you is the best lip filler and why? Tell us in the comments section below!