A career is a series of jobs that a person has in their lifetime in a particular field. A career is an important part of our life. At some point in our lives, everybody works. Some people work to build their lives, while some work to give a purpose to their lives. Having a career gives you a sense of productivity. You feel like you have achieved something in life. Building a successful career takes hard work, perseverance and patience. You should not lose yourself in your career. Stay true and authentic to yourself in your workplace. 
Never pretend to be someone else while applying for work. If you pretend to be someone else, your goals and objectives might not align with that of the company. This will lead to frustration in the long run. You need job satisfaction to be happy at the workplace. Having a successful career is a personal choice and some people are more family oriented.  
A successful professional follows decorum at the office. Always remember to work hard towards your success. It requires a lot of patience and motivation to keep going. Most importantly, be inspiring and helpful to your colleagues. Always remember to be kind and understanding. To sum it up, be empathetic and a team player. 
Why Should Women Build a Career? 
In the 21st century, everybody should work and build their career irrespective of their gender or race. But most importantly, I think every woman should build a successful career for herself. However, to work or not is a personal choice. Here are some reasons why a woman should work towards building a successful career:
Satisfaction:

The satisfaction and happiness you experience when you buy something for your family using your paycheck are inexplicable. It also gives you the satisfaction of having a purpose to work towards. 

Independence:

You feel independent while using your own money to live your life and not being dependent on your family for money. You feel a sense of fulfilment. You feel as though your life has new meaning. This feeling is so beautiful and special.

Meeting new people:

You get to meet and interact with new people on a daily basis and build valuable contacts. You start understanding people a bit better. Most importantly, in the process, you also develop empathy. In the process, you know your team better.

Opens your mind:

Working, learning new things and meeting new people opens up your mind to new ideologies and opinions. You get to introspect on things and what other people have to say. Therefore, you have enriching creative and group discussions. If you get a client-facing job, you learn how to deal with people. 

Travel:

Travelling as a part of your job has an added advantage. All your expenses are covered by the company (at least in the case of most companies). Therefore, you travel for free. Now that's an offer you can't refuse!
So, all in all, working adds a new purpose and motivates you. I don't think anyone should miss out on it or deny the experience due to personal prejudices against them. 
How to Build a Successful Career As a Woman?
The process of preparing for your career itself feels like a full-time job, but without pay. Now, don't worry once that is over, it is smooth sailing! We have covered for you how to build your career. 
Decide on your passion and interest:

This is the most difficult step. If you are passionate about a lot of things, it can be confusing. Think and visualise how you would like your life to look. Research various career options available for your stream.

Talk to professionals:

Once you decide on which career options interest you. talk to professionals working in the career role. Prepare questions you want to ask them beforehand so that you don't leave anything.

Create a LinkedIn profile:

Having a professional and updated LinkedIn profile is important. Add a professional profile picture with a plain background. However, LinkedIn is a very good platform to look for jobs, you can register on other sites too such as Naukri.com. If you wish to freelance, you can register on sites like freelancer.com or Upwork. But when you freelance, make sure to get reviews or recommendations on the projects you work on. 

Apply for the job:

Now you have a profile and connections on LinkedIn or any other job platform you registered. The next step is searching for job roles that interest you and applying!

Keep Learning:

Even if you get the job of your dreams, always keep learning and updating your knowledge. You need to keep on updating your technical skills.  Complete various online courses to update your knowledge. That in turn, keeps you at the top of your field. 
Therefore, a career is very personal and subjective so make sure to tweak and experiment with what works for you. Having a successful career may look different for different people. 
10 Tips to Help You Choose The Right Career
Here are some points to help you choose your career:
Research the work styles and environment:

Different companies and people have different work environments and styles. You have to choose companies that not only have a brand mission that you like but also good work culture.

Set financial goals:

You should look at the big picture and set financial goals. You should shortlist companies that align with those goals. Always prepare for the future. 

Access the job role properly:

Read and understand what the job demands from you. Know the expectations of the company and only then apply if it aligns with your goals and objectives.

Prepare for your interview:

Prepare in advance for your job interview, Research the company profile and what they stand for. Ask questions when told to. If you have any questions, note them and ask them during the interview. 

Take self-assessment tests:

Take various online tests to assess yourself and prepare for an interview. 

Know your strengths and weaknesses:

Always know your strengths and weaknesses. It shows that you are self-aware and will strive to work towards your personal and professional goals.

Gain experience:

You should gain experience in different job roles. This helps you understand what you like and what you are good at. This includes internships during college or a part-time summer job. 

Patience is key:

Being patient helps you make informed and planned decisions. Being calm helps you make better and healthy decisions. 

Hire a career coach:

If you feel confused about multiple career options, consider opting for career counselling.

Know your worth:

Know what you are worth. That will help you negotiate fair compensation.
These tips and tips help to have a successful career. Be confident and keep learning. That will in turn make you an expert in your field. 
10 Professional Career Advancement Tips For Women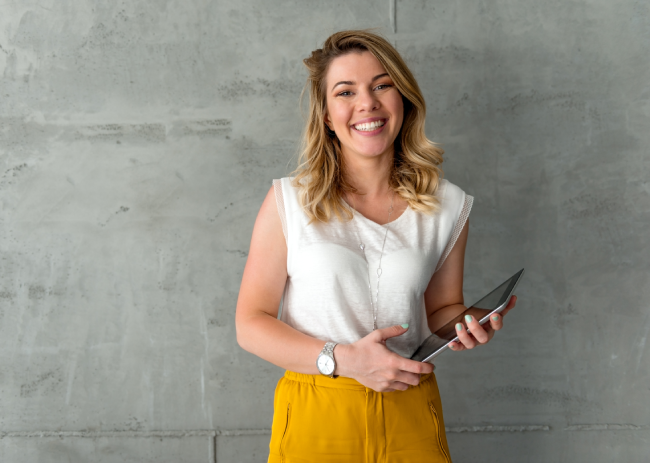 Are you a working professional and wish to advance your career? Look at these tips to improve yourself. 
Do more courses:

If you are in a 9-5 job, It might be difficult for you to go and get a full-fledged degree. So instead you can do a lot of online courses. The sites like Coursera and Udemy offer a lot of courses on various subjects.

Set goals and objectives:

Set clear goals and objectives. To advance in your career, you need to set goals to work towards.

Develop and work towards a plan:

Develop a clear plan for your success and work towards it. You need to plan a roadmap to your success. 

Take on Volunteer opportunities:

Take on volunteer assignments available in your office. That shows how dedicated you are to learning. It shows commitment and will to learn. 

Gain trust:

You need to prove trustworthy and honest. Understand the company policies and follow them diligently. Admit your mistakes with dignity as it shows your honesty.

Network:

A good network and connections go a long way. You can get recommendations and feedback from them to improve yourself.

Take risks:

Do not be afraid to take risks. It opens a door of possibilities once you are ready for risks. It shows dedication and a fearless attitude to succeed.

Always be respectful and professional:

Show professionalism in the office. Never be inappropriate or rude. Don't be insubordinate at work or disrespect your seniors. 

Be an expert:

Have expert knowledge of the field you are working in. If you are an expert you are a valuable asset to the company. 

Know your strengths and weaknesses:

If you know your strengths and weaknesses you

can prepare for the future

. You can work towards your weaknesses and improve your strengths. Thus it shows self-improvement.
10 Books Women Should Read to Build a Successful Career
Reading books is good for self-growth. Reading productive books contributes to our success. We get invaluable tips from experts on how to build a successful career. Our book recommendations are as follows:
Read the books to help you. These books by the industry leaders aim to help you improve your career. You get to learn from other people's experiences and use that for your own benefit. Reading books also helps improve your language. Therefore, it is a win-win for you!
How to Choose The Best Jobs 
Choosing the right job and building a successful career is tedious and time-consuming. It is necessary to know your strengths and weaknesses. 
Decide on your job role:

First think about what you want your job profile to look like. It should align with your goals, morals and strengths. You should explore and know your strengths and weaknesses. 

List the companies:

You need job satisfaction and security. Therefore, list the companies offering your job role and whose mission and value statements align with yours. Never settle. 

Develop a career plan:

Develop a career plan and work towards it. You will also know where you want to be in 5 or 10 years. This will motivate you to work diligently towards your goal. That way when you look back you will be proud of yourself. 

Gain experience before working:

Before working for your dream company, it is important to gain relevant experience. You should do internships in your relevant field.

Develop relevant skills:

You should have relevant skills and knowledge about your field to work. Certain fields require certain technical skills that you should develop and update over time. 

Be a team player:

Be a team player, because you can collaborate and gain knowledge from a group of people. This exchange of knowledge helps you introspect and see things from the perspective of other people. You learn to collaborate and work in a team.  Develop team management and other soft skills. 

Be a problem solver:

Being a problem solver and having conflict-resolution skills is essential. It shows that you can manage any conflicts in the workplace and therefore will be an asset to the company.
These tips will help you land that dream job. Be a team player because every successful career needs some networking. 
FAQs: 
How Do I Build My Career As A Woman?
Building a successful career requires Hard work, dedication and a will to learn. It helps you to be independent and open-minded. You can start by thinking about your skills and strengths. Then choose a field that interests you the most and is relevant to your skills. Know your worth. Always stand up for yourself in the workplace. 
Have a professional portfolio on apps like Linkedin and update it as and when required. Never miss out on volunteer opportunities at the office. Read various books to help you with tips from industry experts. Never lose hope. Keep updating yourself on the relevant knowledge and current affairs. Pick your fights at the workplace wisely. Take positive criticism and work on it. That shows growth potential. Have team spirit and learn to work in a team.
What Is The Best Career For A Female?
There is no right or wrong career as long as it is not harming anyone. Women can achieve anything as long as we put our minds to it. When choosing your career, the most important thing is that you have expert knowledge on the subject. Then consider the work culture and requirements of the field. Consider shift timings and if you are comfortable. Check the company mission and Value statements.  They should align with your goals. Therefore, you know if you have growth potential in the office. Know your worth and make sure you receive fair compensation. Read the company policies about equality. That way you know you will have many opportunities to excel in your career. Never choose a career that is "conventionally" for a woman if it does not interest you. A career is a very personal and subjective choice. You should have the freedom to choose yours.
How Can A Woman Have A Strong Career?
Yes. Without a doubt! Every woman can have any career she wishes for. She should have the right to choose what she becomes. Let's take Mary Kom, Pv Sindhu and Saina Nehwal as examples. These sportswomen followed their dreams and won laurels for their country. It is important that you follow your dreams and not let go of important opportunities. Everyone has a right to a career. You should have dedication and work constantly towards your career. It also requires a great amount of patience from you. 
You should know what you are capable of and choose a career relevant to it. Complete a lot of courses in your field and gain expert knowledge. To build a strong career you should be the best at it. Keep learning and be dedicated. 
How Do I Choose A Career To Start?
It can be tedious to choose a career, especially if you are someone who is passionate about a lot of things. It helps if you have a vision board with what you want your life to look like. Then, based on that choose a career that will help you achieve this goal. Always work towards the goal and be patient. It is sometimes difficult to stay motivated. At such times look at the vision board and remind yourself to work toward the life you want. Always keep in mind to choose a career that suits your personality. You might not think of it as a big deal now but it will lead to burnout if your career and personality don't match. You do not want a career that leaves you jaded. Remember that whatever career you choose demands only as much as you can offer. Do not overwork. 
How Important Is A Career For A Woman?
It is extremely important for a woman to build a career. You feel a sense of independence and satisfaction and develop a sense of empathy and team spirit. In addition, you develop a new purpose for life. You have this newfound gratitude and zest for life. You want to grow professionally. When you buy something for your loved ones with your own saved money, the happiness is inexplicable. You do not have to depend on anyone for anything. You have freedom and can concentrate on yourself and your interests without guilt. 
In Conclusion 
Career is an important part of our lives and we strive towards building a successful career. It is important to know your strengths and weaknesses. Be patient. Don't rush into a career option just because you see other people doing it. Just because a popular career option might seem like a lucrative choice, does not mean it is for you. You might find something else interesting. You spend the majority of your day at the office so choose carefully. Choose a career option based on what you want your life to look like. Plan for the future when it comes to your career. Always remember to negotiate what your worth is. Never lose your true self. Nobody should have to go to work frustrated and bored. An office is meant for growth and improvement. 
Your work should push people to the limits. And most importantly, it should make people feel a sense of purpose in their life. An office should also encourage creative and productive communications among colleagues. A manager must always motivate the employees to do better. You must be professional and respect your coworkers.
Know what you want in your career. Be clear with your goals and communicate them with management. Volunteer for new and challenging projects because it shows potential to grow. Moreover, it shows good leadership qualities. Use this article to motivate yourself to work and build a successful career.
My fellow women, did this inspire you to build a successful career? Let us know in the comments below how your career started and celebrate yourself for how far you have come.